As we move full steam ahead into the festive season, it's time to brace ourselves for the perpetual anxiety that accompanies shopping for gifts.
Some people plan such endeavours with tactical aplomb, paying attention to little hints dropped all year long by their nearest and dearest. They spread their purchases over weeks if not months and thoughtfully gather stocking fillers. Then there are the rest of us, the perennial procrastinators, who leave things until the last possible moment, frantically purchasing anything that we come across and crossing our fingers that it will seem heartfelt and carefully considered.
If you are thinking of buying a gift for someone who loves spirits, you could just pop to the local shop and grab the first bottle you come across. It may be well-received, and it will definitely be an improvement on a wittily inscribed shot glass or some nondescript bar towels. However, we can help you do better.
To alleviate some of the stress, we have come up with a few suggestions that will show the spirits lovers in your life that you really care!
1. A little light reading
In the age of information there has never been such a wealth of literature available on spirits, cocktails and drinking in general. From the pithy to the academic, there is a tome to suit all types. A couple of my favourites from this year are:
From Barley to Blarney: A Whiskey Lovers Guide to Ireland – a great book capitalising on the recent renaissance of Irish Whiskey
Drunk in China - a dive into the wonderful world of Baijiu - whilst Baijiu is huge in China, it has been relatively hard to find further afield but that is changing. Get ready to start seeing it on more and more back bars in the future.
2. For the DIY lover
There is a never-ending supply of barware available for the spirit lover who likes to entertain or just fix themselves a drink at the end of the day. Companies like Cocktail Kingdom and Bar Stuff have pretty much everything you could think of in the way of accessories - jiggers and shakers, bar-spoons and ice ball makers. Better still, they ship all over the world! The best part of a gift like this is that you might even be offered a well-crafted Christmas cocktail for your trouble!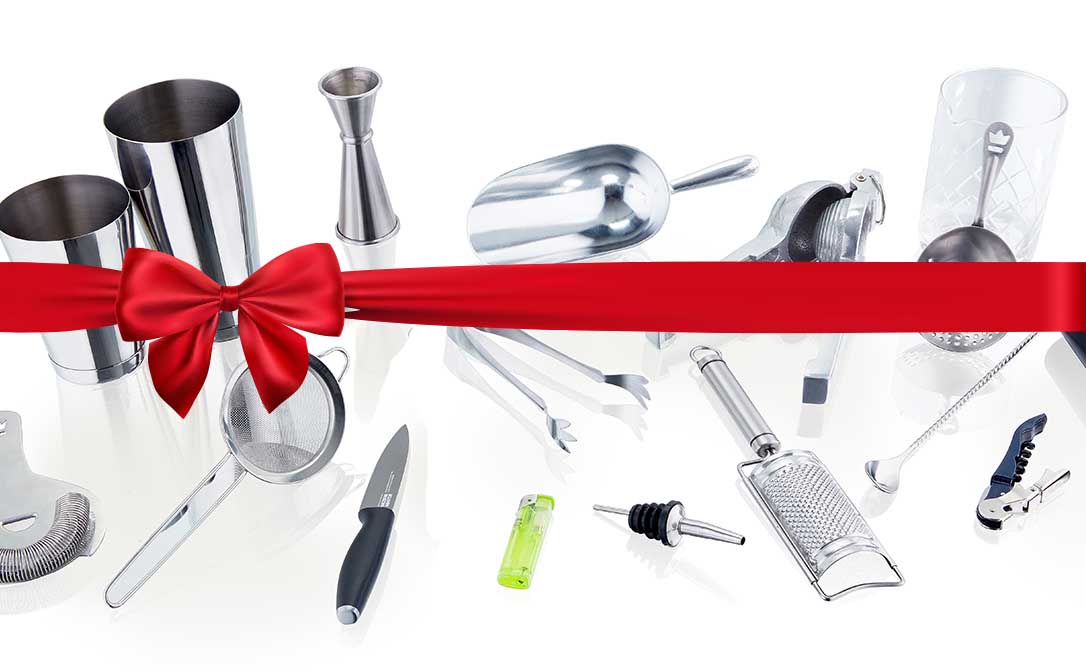 3 Take a trip
Visiting a distillery or spirits region used to require a decent amount of preparation and a fairly large budget. Scotland, France and the Americas all have some pretty iconic production areas and, if you can, you should definitely plan a trip! However, the explosion of craft distilleries around the world over the last decade means that it is now relatively easy to find a distillery within a stone's throw from most major cities. Many of them welcome visitors and you can generally get a far more personalised experience than with some of the larger operations. It isn't unusual for the distiller him/herself to give you the tour in person.
It's a great opportunity to give a spirits enthusiast the chance to find out first-hand how spirits are made. You may even be able to give them a 'hands-on' experience, with many craft distilleries offering labelling and blending experiences.
4 The gift of knowledge
Finally, what better way to say you care than to sign up your friend or loved one for a spirits course. The Wine & Spirit Education Trust's (WSET) spirits courses provide the perfect opportunity to learn how to taste like a pro and find out what's really in your glass. With options ranging from introductory one day courses to advanced-level deep dives, there is a level to suit everyone - from the novice to the connoisseur. Better yet, sign yourself up too and share the experience!
For more information about the spirits courses WSET offers, click here. To find a course near you, visit our Where to Study page.
Rob McCaughey, WSET Americas Business Development Manager Spirits & Sake