Blogger and influencer Alyssa Vitrano (@grapefriend), one of our 50th anniversary ambassadors in the US, shares with us her Wine Education Week experience at the New York launch event on 9th September.
My whole mission at grapefriend is about helping people have as much fun learning about wine as they do when they're drinking it. Wine is still intimidating to some people, and I get it. I've studied wine for years and yet when I walk into a wine store the people there don't know that, and I'll often get some attitude if I ask a question about a wine they have that I've never heard of. But wine is fun and exploring should always be a great experience.
So it was amazing to be a part of WSET's first-ever global Wine Education Week this September. I've been an ambassador for their 50th anniversary this year, taking their Level 3 Award in Wines to learn how to analyse the quality and style of wine. I also shared my experiences as a wine influencer on WSET's panel at SommCon in June. But during Wine Education Week, when more than 500 events were held in 52 countries, I got to learn about wine with a group of fun people. I attended the Wine Education Week New York launch event on 9 September in New York City - A Sommelier's Masterclass to Food & Wine Pairing - and it was the perfect opportunity for everyone to have fun learning more about wine.
The event was all about exploring how key flavour components in food affect how you taste wine. We sat down to some basic flavors on a plate: acidic lemon, salt, and sweet marshmallow. We also had two wines in front of us: a peachy, floral Albariño from Rìas Baixas, Spain and a blackberry Cabernet Sauvignon from Golan Heights, Israel.
First, we took a taste of the lemon slice (not always fun on its own) and then immediately followed it with a sip of the Albariño. The acid in the lemon made the Albariño taste even fruitier, a perfect example of counterbalancing your flavours. Then we took another taste of the lemon, followed by a sip of the Cabernet which suddenly tasted muddy and awful.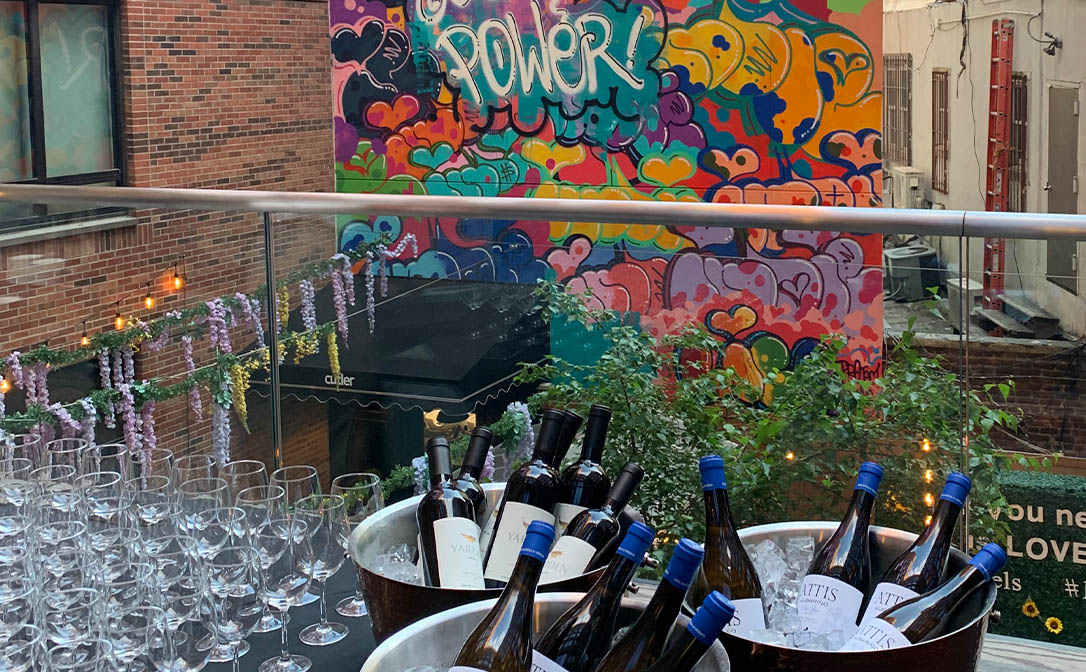 Salt, on the other hand, made the Albariño taste smoother and richer (think of eating it with seafood, with which Albariño excels), and mellowed out the tannins in the Cabernet (which is why Cabernet works so well when you sprinkle a dash of salt on your steak).
Lastly, we explored sweetness. The general rule here is that you should always drink a wine that's sweeter than your food (if not, your wine will often taste bitter). This was absolutely played out as we took a bite of the marshmallow, which made both wines taste almost sour. In the world of perfect pairings, you'd want a sweet wine with your dessert – a fizzy Moscato d'Asti maybe for your marshmallow, or a port with chocolate.
After our tasting experiments, people asked questions which I loved hearing. I've studied wine for years and spend a lot of time digging into the details, so it's always helpful to hear what people are trying to understand about wine on a very basic level. There were some good questions about why red wine goes so well with steak. Partly it's because of the salt I was talking about above, but also because red wine has a heavier body and tannins that work well with the weight and fat in red meat.
Afterwards, we got to hang out on the terrace of the Arlo Hotel and put all of these wine and food pairings into action with some great hors d'oeuvres. The events held all over the globe during Wine Education Week were a great way to get a taste (literally, actually) of the fun world of wine. More importantly, they helped people understand WSET's mission of "learning to drink better." We all love wine with our food but being able to break down a few elements in wine will help your food (and your wine) taste even better.
Interested in going deeper? Follow along on social @grapefriend and @wsetglobal and check out the courses WSET offers. You can keep it simple and just learn the basics of what to look for in a wine (helpful when you're trying to ask a waiter what wine you should get) or really get into the details and learn about vineyards, winemaking processes, and what makes a wine taste the way it does. Either way, have fun – that's what it's all about!

This event was part of a 24-hour wine tasting across 24 countries to mark the launch of WSET's first-ever global Wine Education Week.