Winter is a time for festivities across the globe and while wine might not be the traditional accompaniment for foods enjoyed during these celebrations, understanding a few key principles will help you confidently pair wine for any occasion.
Let's look at some festive suggestions:
Hanukkah
Hanukkah is an eight-day long festival celebrated by the Jewish community. Fried foods are often eaten during these celebrations, including latkes -grated potato pancakes and sufganiyah – jam/jelly doughnuts. As these are oily foods, they with go well with acidic wines and so a sparkling wine such as Champagne or Cava would be a great pairing. In addition, as the doughnuts are sweet, a demi-sec (half-dry) or doux (sweet) sparkling wine would enhance the flavours even more.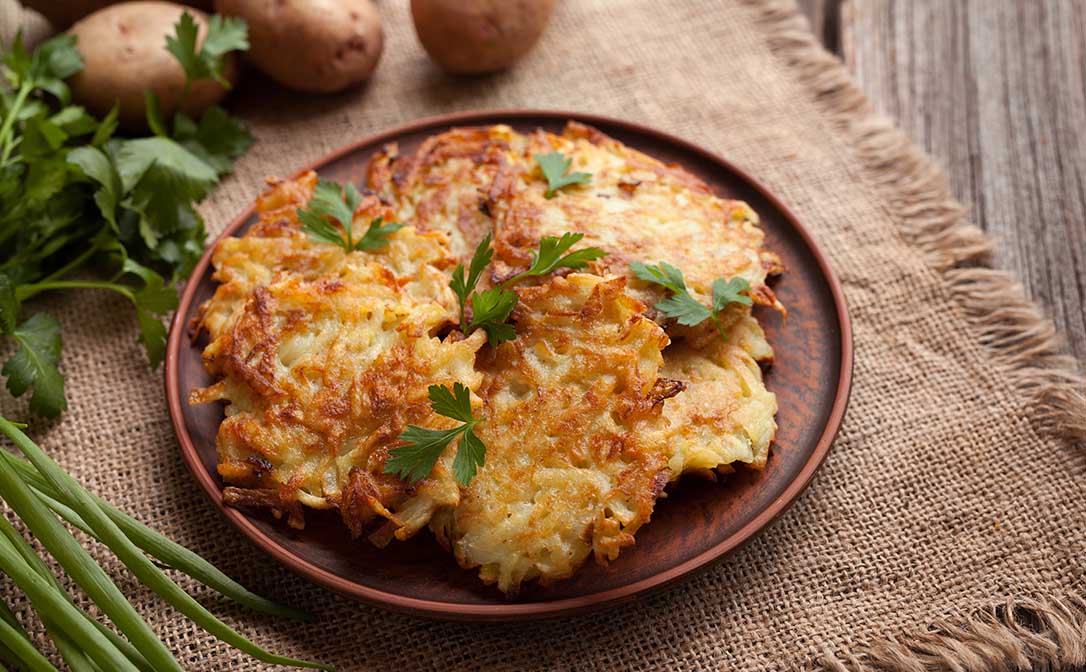 Latkes - grated potato pancakes
Kwanzaa
Kwanzaa is a six-day celebration of life, kept by some African diaspora, predominately in America. With no one meal taking precedent, dishes usually consist of a range of favourites eaten across Africa. One such example is groundnut stew, made with chicken, scotch bonnet peppers and groundnut/peanut butter. This dish lies within the spice/intense flavour and chilli heat categories. Both suggest a fruity, aromatic wine would pair well, such as a Viognier if you wanted something dry or an off-dry Riesling/Gewurtztraminer for those looking to balance the heat of the chilli.
Diwali
Diwali is a five-day festival of light observed by Hindus, Sikhs and Jains across the globe. With such a large range of celebrants, dishes vary between regions but mithai (sweets/dessert) will always be found on the menu. Gulab jamun is a classic example as are dough balls made with milk solids, fried and then soaked in flavoured sugar syrup. This falls into two categories, sweet and fat/oily. Therefore, it is best to look for a sweet dessert wine that has still retained its acidity, such as a Tokaji.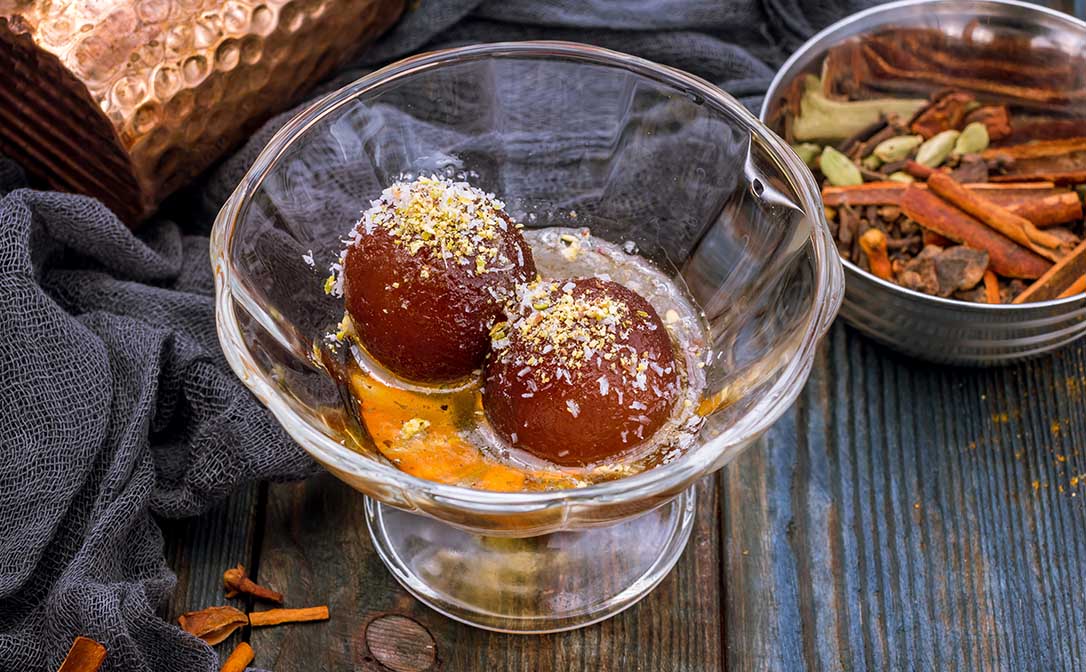 Gulab jamun
How to make your own food and wine pairings
To make your own perfect food and wine matches, follow the introductory principles laid out below.
Firstly, it's important to remember that food affects how a wine will taste. We need to consider what characteristics a dish has and consider if we can do a contrasting or complementing pairing.
Foods high in fat
Foods high in fat and oil coat your mouth and as such wines with high acidity are often suggested to pair with them. This is because the acidity 'cuts through' the richness of the food to clean your palate and makes the mouthful taste fresher, similar to squeezing lemon juice on seafood. This is a contrasting pairing.
Sweetness
Sweetness in food can make a wine taste less fruity, drier and bitter. It's easy to remember that sweet foods should be paired with sweeter wines. The wine needs to be sweeter because the food decreases the perception of sweetness on the palate, like pouring custard on cake. This is a complementary pairing.

Salt
Salt is quite wine-friendly. Similar to how it brings out flavours in food, it can also enhance characteristics in wine. It makes a wine taste sweeter and softens some harder elements of a wine such as acidity or bitterness. Salty foods work well with sweet wines, in a similar way to salted caramel. This is a contrasting pairing. However, foods high in salt also make wine taste less acidic, you could happily pair with higher acidity wines – like adding salt and vinegar to chips/frites/fries. This is a contrast pairing
Spices
Spices/intense flavours are by their very nature flavourful. Therefore, a wine which is equally as aromatic or fruity works well. It may also help to look for similar tasting notes found in both food and wine eg. ginger, pepper, herbs. This is a complementary pairing.
However, some intensely flavoured dishes might work better with a light, simple wine so that the flavours don't clash. This is a contrasting pairing.
Chilli heat
Unlike the other characteristics, this is a tactile sensation, and levels of sensitivity vary from person to person. Heat in food can make a wine taste less fruity, less full-bodied and less sweet. It will also increase the perception of alcohol. If you prefer to balance out the heat, then an off-dry/sweet wine is a good choice as the residual sugar acts as a coating to reduce it. This is a contrasting pairing. If, however, you want to preserve the chilli kick, then a wine that is full of fruit is needed, in order to stand up to the flavour intensity. This is a complementary pairing.
Acidity
Acidity can be quite a scary sounding, but in wine and food, it adds freshness. Foods with high acidity, such as tomato-based dishes, decrease the perception of acidity in wine. Therefore, high acid wines work well with high acid foods. A wine with low acid would seem very flat and lacking in structure. This is a complementary pairing.
If you're looking for some great tips on food pairings for Christmas, click here to read our blog.
Keen to learn more? WSET's Level 1 Award in Wines is a great place to start, and if you're looking for a last-minute gift for the wine or food lover in your life, a wine course makes a perfect present! 
Prepared for WSET by Aleesha Hansel, Freelance wine writer. Aleesha was recently awarded the BAME Wine Professionals Louis Roederer Bursary.