Tim Clark, Asia Brand Ambassador for the Real English Drinks House in Hong Kong, is winner of the Vintners' Cup 2019. The Vintners' Cup is awarded every year to the student who achieves the highest aggregate mark in the WSET Level 4 Diploma globally. Tim, who studied at AWSEC Hong Kong, shares the secrets of his success.
What does it feel like to be the best in class?
That's an uncomfortable question to ask of anyone English (mumbles something into beard… great honour… stiff competition… truly humbled...)!
When I saw the e-mail saying that I'd won the Vintners' Cup, I must have made a noise somewhere between laughing and crying, because my partner ran into the room to see whether I was all right! I couldn't speak; I just had to hand her the phone to read for herself. Looking at the some of the famous names on the list of previous winners is humbling, but also inspiring, thinking about where I may be able to go from here.
The truth is, now that it's all sunk in a little, the overwhelming feeling is one of enormous thankfulness and relief that the long hours studying, the many weekends spent in the library when I could have been with my family, paid off.
I'm now involved in wine education, which I wouldn't have contemplated without the knowledge, skills and confidence gained from the Diploma.
What do you attribute your success to?
There's no secret here - just hard work and disciplined study. There is no short-cut to success in the WSET Diploma because even the world's most naturally gifted taster would still need to learn the discipline of WSET's Systematic Approach to Tasting Wine® (SAT), as well as the mountain of book knowledge that sits behind it. I was also fortunate to have some excellent teachers at AWSEC, Hong Kong, to whom I owe a great debt of gratitude.
Can you remember the moment you caught "the wine bug"?
I was working in Johannesburg in 1999 and someone recommended I try the Meerlust Rubicon, one of the most expensive bottles on the hotel's wine list, but still less than a tenner. It was a revelation: approachable yet complex, generous yet multi-layered. I simply didn't know that wine could do that: excite the intellectual and satisfy the hedonist at the same time. I bought as much as I could carry home.
My latent fascination was crystallised a couple of years later when, on a return trip to South Africa – a cricket tour of the Western Cape this time – I visited my first vineyards. It was standing among the vines, looking at the slopes and the soil and the sunshine, that everything suddenly made sense, that the relationship between the place and what's in the glass came alive.
What part of the Level 4 Diploma course did you find most exciting and which was most challenging?
It's a bit of a cliché, but most exciting part was being forced to taste widely across the syllabus, which opened my eyes not so much to the diversity of wines available but to the incredible quality of some of the wines coming out of the emerging countries and less-heralded regions.
Asking what was most challenging is a little like asking who was the most fearsome of the 1980s West Indies pace bowlers, when they were all fearsome. The syllabus is so extensive that every part becomes challenging, simply because of the volume of information you have to get your head around.
If I had to single out one area, I'd point to the tasting element of Unit 5 - Sparkling Wines. I found it particularly tricky, partly because the stylistic differences can be subtler than with, say, fortified wines, but also because of the practical difficulties of tasting widely. The range of styles available by the glass is limited in Hong Kong and the expense of buying bottles to taste at home is prohibitive.
How have the knowledge and skills gained in the Diploma helped your career development?
I've only recently taken my first steps in the drinks industry, so watch this space. However, I'm also now involved in wine education, which I wouldn't have contemplated without the knowledge, skills and confidence gained from the Diploma.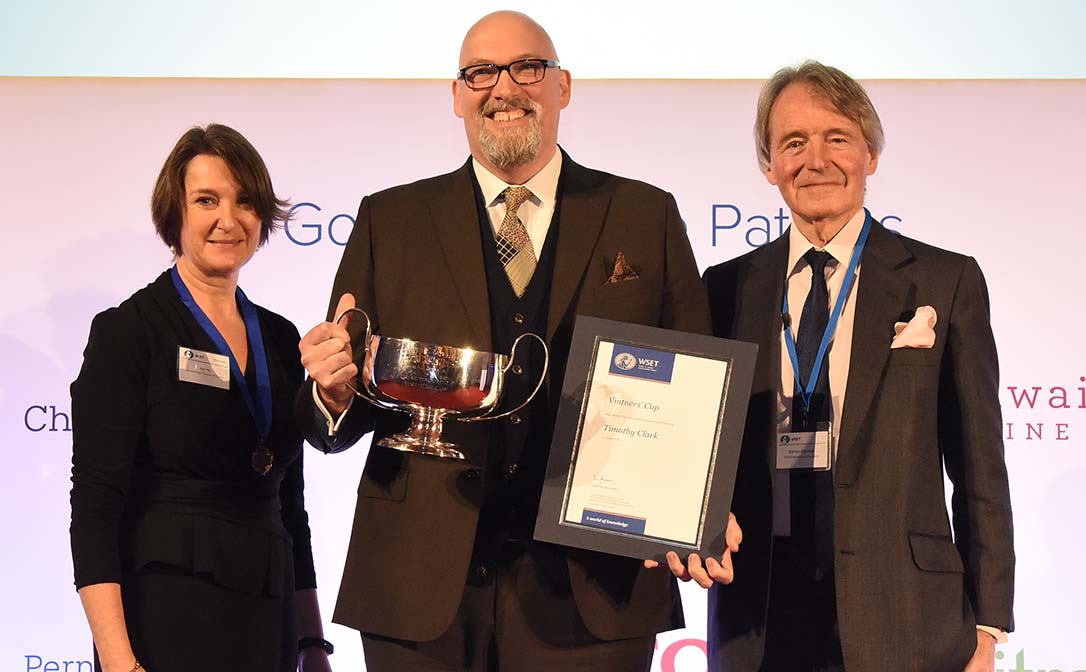 Timothy Clark being presented with the Vinters' Cup. (Left to right: Ann Hill, Worshipful Company of Vintners; Timothy Clark DipWSET, prize winner; Steven Spurrier, WSET Honorary President)
Do you have any words of wisdom or tips for people considering enrolling onto the WSET Diploma course?
Yes: do it! It's a valuable and empowering experience. But make sure you have plenty of time to devote to studying, and preferably a patient and supportive partner. And practise your response to the comment, "Tasting wine every night? That must be hard work!"
How did you celebrate winning the Vintners' Cup?
A couple of margaritas at our local Mexican, with my (patient and supportive) partner. I had to keep my win confidential until after graduation but there's a bottle of Clos des Goisses in the fridge at home which I'll open with some close friends when I get back to Hong Kong.
If you are interested in taking the next big step onto WSET's Level 4 Diploma you can find out more here. If you are just starting out on your wine education journey discover our full range of qualifications here and find a course provider near you by visiting our "Where to study" page.