Most of our 2020 dining experiences to date have been home-based. Even as cafes, restaurants and bars begin to open over the coming months, whether we like it or not, we will still have to rely on eating and drinking at home much more than we did before the current crisis.
While takeaway meals may not excite fellow wine enthusiasts as much as dining out, you can still successfully experiment with food and wine pairings from the comfort of your dining table or sofa.
The first rule of thumb is that wine does not affect food nearly as much as food affects wine. The second rule - don't be ruled by rules! While there are traditional food and wine pairings we love and adore, the possibilities are endless and depend on your personal tastes and preferences.
We start by identifying the main groups of take-away food: salty, acidic, highly flavoured, fatty and oily, hot and spicy, sweet, and savoury or 'umami'. Next, we explore the possible effects that each food type will have on the taste of certain wines. For example, salty foods can make tannic wines smoother and more palatable, acidic foods can soften highly acidic wines, sweet foods can even out the rich and fruity characters of dessert wine, and so on.
So, as you place that order, here are some tips on how to make successful wine pairings with your favourite takeaway meals.
Tomato-based: Pizza, Pasta
Food Type(s): acidic, salty
Pairing Category: high-acid red wines
Suggested Wines: Barbera, Corvina, Lambrusco, Nebbiolo, Sangiovese
Tomatoes are the epitome of acid and need wines with equal freshness. High-acid red wines are not only up for the challenge, but their herbal and earthy characteristics also complement other classic ingredients of this style of cuisine such as basil, oregano and mushrooms.
Tomato-based dishes often require a significant amount of salt alkalinity to balance their acidity. The salt helps to soften the wine's tannins and acidity and enhance the wine's fruit characteristics for a more pleasurable tasting experience.
Mediterranean: Antipasti, Falafel, Stuffed Grape Leaves
Food Type(s): salty, oily
Pairing Category: structured whites with natural acidity
Suggested Wines: Assyrtiko, Carricante, Falanghina, Pinot Grigio, Vermentino
Foods in this category share two things in common: salt and oil. Zesty white wines with structure are good partners for this style of cuisine as the salt and oil soften their acidity while highlighting their fruit and floral notes.
Unsurprisingly, many of the wines that fit the bill come from Mediterranean vineyards. From the rugged coastlines of Italy to the Greek islands, these white wines have the body and brisk acidity to guarantee wine pairing heaven for a Mediterranean meal.

Meaty: Burger, Kebab, BBQ
Food Type(s): salty, highly flavoured
Pairing Category: full-bodied red wines
Suggested Wines: Cabernet Sauvignon, Grenache, Syrah, Tempranillo, red blends
Meats are often highly salted and flavoured making them perfect for showcasing the structure and concentration of tannic red wines. Intensely flavoured wines will not be overwhelmed by well-seasoned meats, happily playing along with various sauces and spice blends.
However, these foods also tend to have a high-fat content. So, selecting red varieties which also have good acidity is important as it will be needed to cut through the fat. This is where red blends such as Bordeaux and Côtes du Rhône have a useful role to play.
Asian Cuisine: Ramen, Thai Curry, Chow Mein
Food Type(s): umami
Pairing Category: high-acid whites and light reds
Suggested Wines: Grüner Veltliner, Riesling, Sauvignon Blanc, Gamay, Pinot Noir

By far the trickiest category to pair with, umami-driven foods tend to make wines taste more bitter while dulling their fruity characteristics. This can be particularly detrimental to tannic wines. This said, there is still quite a wide spectrum of wines that would pair well with these dishes. While you want enough acidity to keep the palate clean and crisp, the key is to consider wines intense enough to retain their fruit characteristics in the presence of umami. Think aromatic white varieties such as Grüner Veltliner, Riesling and Sauvignon Blanc.
If you're in the mood for red, the trick is to stick to varieties with high acidity and low tannins, such as Gamay and Pinot Noir. Try one of these with a serving of Peking duck for a seriously good match.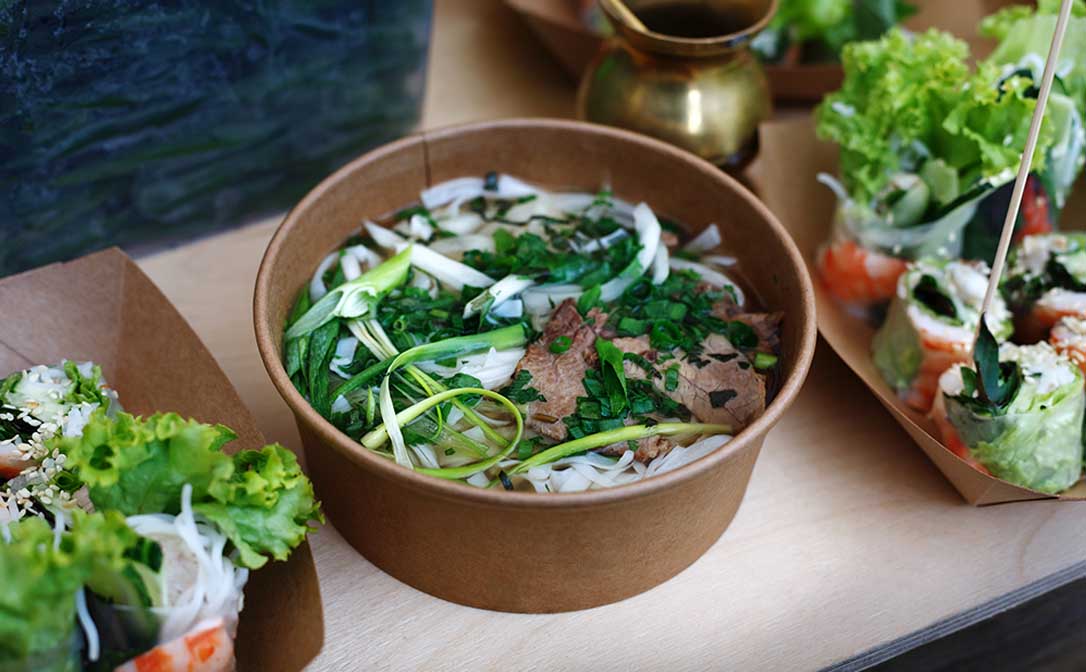 Fried: Chicken, Chips, Arancini
Food Type(s): fatty/oily, salty
Pairing Category: sparkling wines
Suggested Wines: Cava, Champagne, Crémant, Moscato d'Asti, Prosecco
After eating healthily all week, come the weekend you're allowed to indulge in some finger-lickin' fried food. The best part of all is that fried foods pair beautifully with sparkling wine. The acidic nature of sparkling wine zips right through the fat, oil and salt in these foods for a refreshing palate cleanse after each bite. 

Depending on your sparkling preferences, you can pair fried foods with a wide range of sweetness levels - from Brut Nature all the way to the frothy lusciousness of Moscato d'Asti. If there is acid, there is a way to find a delectable pairing. And, as if you needed more reasons for this pairing, the bready autolytic notes of traditional method sparkling wines can also offer a winning touch to this combo.
You can try this at home...
Now we've suggested some of the principles you can follow, the best thing to do is to try your own combinations at home. You never know when you'll discover a new favourite!
Written by Julie Albin DipWSET, Business Development Manager (Education Programming), WSET Americas

If you want to want to learn more, the tenets of food and wine pairing are discussed in both WSET's Level 1 and Level 2 Award in Wines. Courses are available online as well as in a classroom, visit our "Where to Study" page to find the right course provider for you.