To celebrate World Sauvignon Blanc Day, we have asked one of our team of experts to share their knowledge about this well-loved grape variety. People invariably see Sauvignon Blanc as a high acid, intensely aromatic white wine from New Zealand with flavours of gooseberries, grass and green bell pepper. In reality, it's a grape that can appear in many different guises - from a light-bodied grassy Loire Valley wine to a complex, weighty white Bordeaux.
Here we look at the different options available to Sauvignon Blanc producers in the vineyard and the winery and see how these choices affect wine styles.
Viticulture
Sauvignon Blanc thrives in cool to moderate climates. If the climate is too warm, then the grapes will ripen too quickly, and the variety's distinctive herbaceous aromas will not develop. If it is grown in moderate climates, it needs a site with the cooling influence of altitude or ocean breezes to develop its characteristic flavours.
The name Sauvignon Blanc is believed to originate from the French word 'sauvage' meaning wild because its leaves resemble wild grapevine leaves. Sauvignon Blanc is a very vigorous variety that needs to be planted on extremely poor soil to restrict vegetal growth and allow grapes to fully ripen. Winegrowers can also control vigour through rootstock selection or by using training systems to stress the vines. They also have the option to prune heavily, which has the added benefits of allowing better air circulation (good for preventing disease) and increasing exposure to sunlight.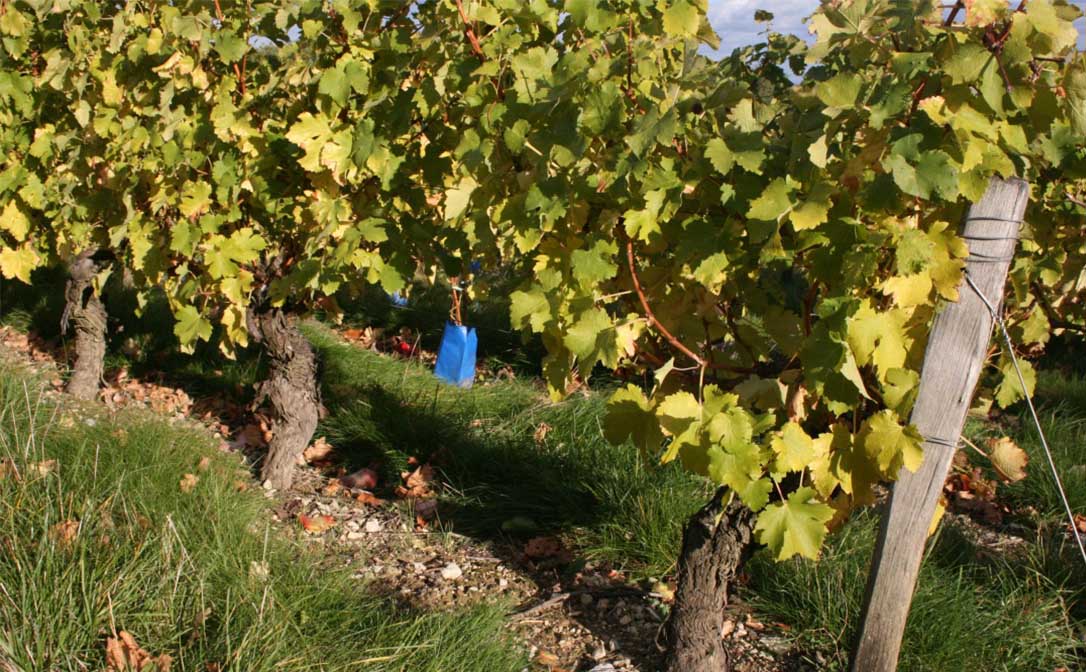 Old Sauvignon Blanc vines, Sancerre
Sauvignon Blanc contains an aromatic compound which accounts for its distinctive green bell pepper flavour (this is the same family of compounds that's found in its offspring Cabernet Sauvignon). When Sauvignon Blanc grapes are exposed to sunlight, this compound decreases dramatically. Sauvignon Blanc grapes grown in the shade have nearly double the amount compared to those grown in the sunlight. To introduce complexity to their wine, winemakers can mix grapes grown in shade (for 'green' flavours) with those grown in sunlight (for tropical flavours).
Winemaking
Once the grapes are harvested, the winemaker has many options in determining the final style of the wine. First of all, after pressing the grapes, the winemaker can choose to ferment the juice with either wild or inoculated yeasts. Wild yeasts are unpredictable and can cause issues with fermentation but, on the other hand, they can produce unique flavours and add complexity to the wine. A winemaker has more control over the final wine with inoculated yeasts - this is the choice for producers who wish to create consistent wines vintage to vintage.
After fermentation, the next decision for the winemaker is how to store the wine before bottling. Here a winemaker can choose to use inert vessels (such as stainless steel) or wooden barrels. Most opt for stainless steel because it retains the variety's aromatic, fruity aromas. However, there are some wineries which use oak barrels for storage in order to give the wine additional flavours – such as vanilla, cloves and smoke - and encourage the development of honey and nutty flavours with age.
While Sauvignon Blanc is not usually blended with other grape varieties, as producers want to retain its characteristic taste and aromas, some winemakers do blend (most commonly with Sémillon) to add some complexity. Top Bordeaux producers (such as Graves AOC or Pessac-Léognan AOC) often put a percentage of their wine into oak and blend it with a small amount of Sémillon. In regions like Margaret River in Western Australia, they also blend Sauvignon Blanc with Sémillon.
Sauvignon Blanc global hot spots
Let's see how this theory is put into action in some well-known Sauvignon Blanc producing regions around the world.
Marlborough, New Zealand: Sauvignon Blanc has been one of the most popular and successful grapes grown throughout the cool to moderate climates of New Zealand. The sunny days here mean that grapes ripen fully, leading to tropical flavours alongside gooseberry and asparagus.
Chile: Though Chile has a relatively warm climate, coastal regions such as the Casablanca Valley are cooled by sea breezes and morning fog. This area produces very aromatic Sauvignon Blanc that rivals some of the tropical expressions found in New Zealand. Here the Sauvignon Blanc style explodes with tropical fruit (passion fruit) while still retaining some herbaceous notes (grass).
Loire Valley, France: This cool region of France produces some of the most famous Sauvignon Blancs, from Sancerre AOC and Pouilly-Fumé AOC. These wines are always 100% Sauvignon Blanc - dry with high acidity and lifted 'green' aromatics (grass, asparagus and green apple). To the west of these two AOCs, you can find Touraine AOC which produces more affordable, fruity expressions of Sauvignon Blanc.
Napa Valley, USA: Napa Valley produces some outstanding Sauvignon Blanc. As it's much warmer than in the Loire Valley or New Zealand, winemakers need to find sites with altitude or cooling sea fogs. Napa Sauvignon Blancs tend to be similar to white Bordeaux - full bodied, ripe and often oaked.
The future of Sauvignon Blanc
Some producers worry that consumers will tire of the intense herbaceous aromas and flavours of the current Sauvignon Blanc style. They are therefore using many of the techniques outlined above to create a wider range of styles to entice consumers to explore this trusted grape further.
We can only give you a snapshot of the Sauvignon Blanc grape here, but if you are inspired to take your wine knowledge to the next level, don't forget WSET qualifications are available online. To find out more about WSET's Online Classroom, and for a taster of what to expect, click here.
Written by Chris Martin DipWSET. Chris is Head of Educator Training for WSET and is currently studying for his Master of Wine.