If you think you always need to be in a classroom to learn about and taste wine, spirits or sake, you may be pleased to hear that you can now study with WSET just as effectively online.
While online learning opportunities are naturally front-of-mind in the current circumstances, we have in fact been offering most of our courses as an online option for quite a while (the only exceptions being our Level 3 Sake and Spirits Awards*). Over the last few months, we have fast-tracked our digital learning development and now an increasing number of our course providers are offering WSET courses online.
What options do I have for studying online?
For all our online courses you still need to sign up with your preferred WSET course provider (you can find one here).
They will then either provide you with details to access WSET's Online Classroom (which we will discuss in more detail later), or they will provide details of their own online learning platform. Course providers using their own platform often offer courses in local languages. These courses are led by one of the course provider's own WSET-approved educators. If choosing this option, you will need to take a paper-based exam as online exams are currently only available in English. 
If you are taking an English language Level 1 (Wines, Spirits, Sake) or Level 2 (Wines, Spirits) Award, you can study for the course and sit your exam in the comfort of your own home. It's advisable to check with your preferred course provider what format your examination will take before you enrol.
If you are taking the Level 3 Award in Wines or the Level 4 Diploma in Wines, you still need to pass a paper-based exam to receive a WSET qualification upon completion of your course. This will be organised by your local course provider, who will decide on the time and venue for the exam. Additionally, these more advanced qualifications require you to attend tutorials organised by your course provider to help you improve your tasting skills and master exam techniques.
What's it like taking a course with WSET's online classroom?
The WSET Online Classroom is WSET's e-learning platform. The platform enhances textbook study with a broad range of educational materials and activities to suit different learner types. Videos, quizzes and tasting activities will keep you engaged throughout your course, while student forums will connect you with your classmates so you can share your experiences.
Although each course has a set start and finish date, you have the flexibility to study at your own pace and convenience - as there is no 'live' teaching. Before the course commences, you will receive the relevant course study pack in the post (apart from all Level 1 Awards, as this is included in the online course materials). All you then need to get started is a laptop, tablet or smartphone.
You'll be assigned a dedicated educator who will guide and support you throughout the course. They will answer any questions you have about the learning materials and help you to develop your tasting skills. WSET's Online Classroom support team will also be there to help you get the most out of the platform.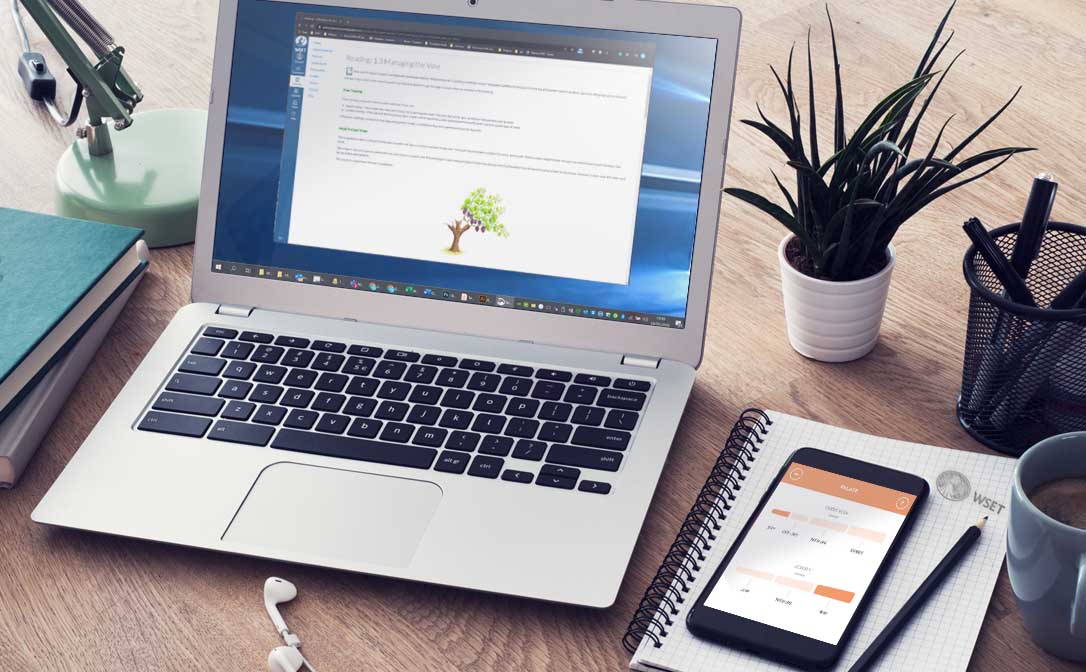 Tasting is an important part of all WSET courses. For online courses, you source your own samples, but you'll receive guidance on what styles to buy. Throughout the course, you'll share your tasting notes and your educator will give you feedback and tips to help you fine-tune your palate.
How does taking an online exam work?
WSET's online exams are carried out using remote invigilation. Our remote invigilation system enables you to sit your exam at home on a computer whilst being monitored via webcam, screen sharing technology and a secondary recording device (usually a smartphone). Online exams will take place at a set date and time which will be specified when you sign up for the course. The exam questions and duration are the same as for a paper-based exam. You still have the option to sit a traditional classroom exam if you prefer and if your local course provider offers this option.
Both WSET's online Level 3 Award in Wines and Level 4 Diploma have a set paper-based exam date but, due to the COVID-19 situation, many are currently not able to take place and will be rescheduled in accordance with local government guidance. Your course provider will keep you updated on when the exam will take place.
What are the benefits of studying online?
In the current crisis, online learning is the only option for many WSET students around the world. However, some students find that online study is always the best option for them.
Recent WSET research, comparing the satisfaction levels of online versus classroom students, highlighted convenience as one of the main benefits of taking a WSET course online. Students really value the flexibility, which allows them to fit their studying around their complex work and personal commitments.
Minda Bi studied with Feasterplus Wine Academy, Beijing, China. She comments:
"The online course is very flexible - I can learn anywhere and anytime. During the online course, I 'met' my classmates from all over the world, and the interactions (on the comment board) were very interesting. I was worried that the wine tasting session would not be as effective as the classroom courses, but my course provider shared wine tasting videos and also recommended wines, which was really helpful."
For some students who aren't lucky enough to have a nearby WSET course provider, then online learning is a real bonus. Alessandro Costa studied with The Wine Studio, Spain. He added:
"I live and work on an island with no WSET Approved Program Providers available and, because of that, I had no access to any of their programs. The online WSET courses offered by The Wine Studio finally allowed me to begin my introduction to the world of wine. With the video conferencing technology and the miniature bottles for tasting, the online courses have the same qualities as a regular one, plus the added flexibility and comfort of studying from your own home. 
I would honestly recommend the WSET online courses to anybody that needs flexibility due to a busy work schedule or has no access to an APP at their location."
Online learning offers a valuable alternative to classroom-based courses for many students both in the short and long-term. If you are inspired to take your wine, spirits or sake knowledge to the next level with one of our online courses, find out more and get a taste of what to expect here.
*Although some of our course providers are currently offering these courses via video conferencing platforms