From NYU to IWC, Spirits Strategist Scott Rosenbaum DipWSET of New York importer and distributor, T. Edwards Wines & Spirits, worked his way into the wine and spirits industry through education; he's achieved WSET's Level 4 Diploma in Wines and Level 3 Award in Spirits. He talks to us about the need for systematic spirits judging and how agave is the next big thing.
How did you first become interested in spirits?
In 2003, I enrolled in a course at New York University called Beverages 101. I was primarily interested in wine, but pleasantly surprised when Allen Katz (Director of Spirits Education and Mixology for Southern-Glazers Wine & Spirits) came in to guest lecture on cocktails. At the time, my knowledge of cocktails was limited to Mudslides, which much more closely resemble milkshakes, so an introduction to drinks like Manhattans, Daiquiris and Old-Fashioneds was revelatory. It didn't hurt that the current cocktail renaissance was in its nascent stages, so the excitement was palpable.
While in college, I'd worked part time in a few retail stores. It all seemed terribly exciting just to be working around wine and spirits, particularly when sales people and winemakers would visit and sample us on their products.
Upon graduation, I accepted a full-time position as an administrator at the International Wine Center, a WSET Approved Programme Provider. It was a nexus of the industry. Everyone took classes from retailers to winemakers to bartenders and auctioneers and PR specialists. It opened my eyes to the opportunities that existed for those who put in their time, studied hard and worked harder.
What inspired you to take WSET qualifications?
It was less inspiration and more necessity. After all, it was only natural that I pursue my WSET Diploma as someone who worked at a school that offered their classes. I found the subjects challenging and liked the rigor of the material. Once I completed the WSET Diploma in 2009, I was fortunate to be invited to teach the Level 2 Award in Wines & Spirits and the spirits unit of the Level 4 Diploma, both of which I continue to teach to this day.
Counter-intuitively, as the person who started the spirits portfolio at T. Edward Wines & Spirits, my wine knowledge was essential. It served as a bridge to those who questioned the idea of a wine importer entering the spirits business. My WSET training provided me with a common language—from production to tasting—with which to gain the trust of my colleagues, suppliers, and customers. Sure, I was the "spirits guy," but I could talk wine, too.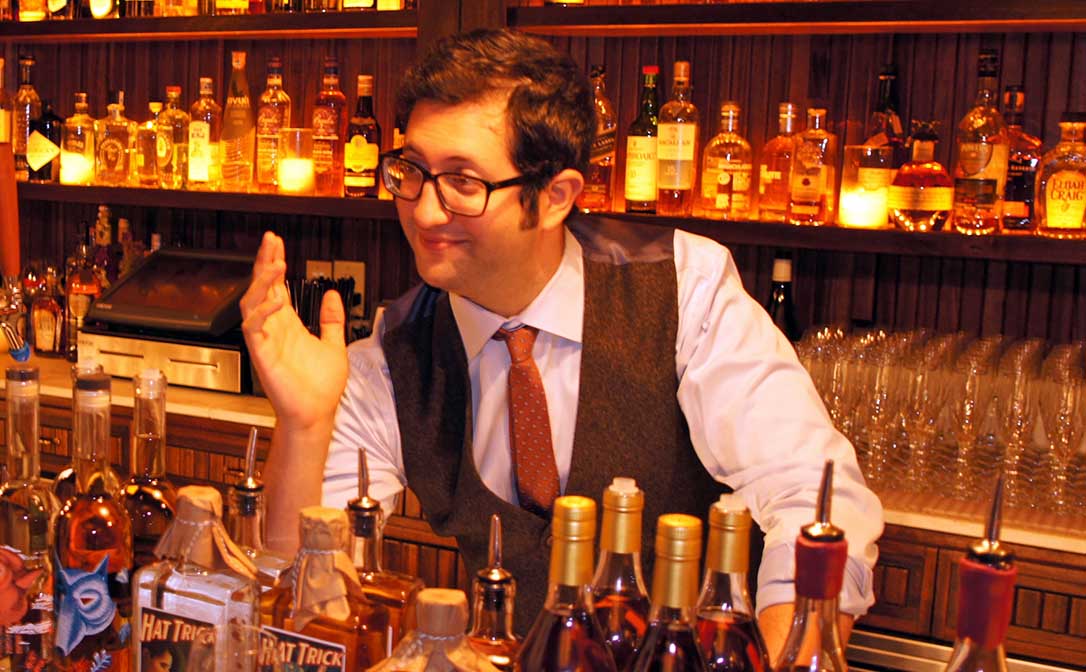 You regularly judge at wine and spirits competitions. While wine judging is often based around a clear scoring system, do you think a more standardised approach is needed for spirits?
I do find that judging standards for spirits are considerably more lax than those for wine. That being said, the systems for judging wine and spirits are (usually) sound; I believe it's their application, which is haphazard. Here I think competitions would best be served by something like the WSET Systematic Approach to Tasting® which is both a system AND a process. Yes, it is a rubric of aromas, flavours, and structural components of a wine or spirit, but it's proper application is only learned through extensive practice (which is generally lacking in spirits competitions where many judges have disparate ideas about quality).
It's through this process of training where one calibrates their subjective perceptions into the objective criteria. How much more consistent would all competitions be if judges gathered beforehand with a few previous examples of Gold, Silver and Bronze medal winners to calibrate?
As a spirits strategist and consultant for restaurants' wine and cocktail lists, what trends do you see on the horizon for the U.S. market?
Currently, anything agave-based—Tequila, Mezcal, Sotol and so on—is hot. I think we're over the hump when it comes to the wrong-headed idea that more ingredients equal a more complex or better cocktail; I find this heartening. There has also been a decades-long trend of "experts" proclaiming this year will be the "year of rum" and being wrong.
With regard to both wine and spirit quality, particularly for those deemed "natural," it'd be nice for the trade to be more demanding. The philosopher, humourist and artisanal pencil sharpener David Rees once wrote, "one of the dysfunctions of our age is the conflation of shoddiness with authenticity." I think that the sooner we embrace this truth, the better off we'll be.
My WSET training provided me with a common language—from production to tasting—with which to gain the trust of my colleagues, suppliers, and customers. Sure, I was the "spirits guy," but I could talk wine, too.
As a lecturer on the history of alcohol and food, what moment in spirits history would you most like to have experienced and why?
At the risk of sounding too precise, I'd say Manhattan in 1945. I believe that food and drink in New York today are undoubtedly at their best, though I still can't help but feel like I missed out.
How I'd love to see Little Italy when it was less little! Or dine at Le Pavillon. Or grab a cocktail on a westbound train after strolling through the architectural wonder that was the old Pennsylvania Station. Or visit Sammy's Bowery Follies, a place the photographer Weegee called "the poor man's Stork Club." One can look to Jan Morris' Manhattan '45 to get a full sense of the zeitgeist.
I suppose others will wonder what it was like to drink at Milk & Honey or have a meal at the 2nd Avenue Deli when it was still on 2nd Avenue. To have had those now-impossible experiences, I'm plenty grateful.
In June 2018 Scott hosted a WSET session on agave-based beverages at the inaugural Bar Convent Brooklyn. WSET is once again hosting a series of expert-led tasting sessions for a new digital edition of Bar Convent, Bar Convent Pouring Digital. Click here to find out more.
Follow the links below for more information about our qualifications in spirits:
Article first published 16 May 2018