Before joining WSET Americas, Account Development Coordinator Rafaella De La Vega made the leap from the corporate tech world into the wine industry by signing up to work the 2020 harvest in Sonoma, California. Rafaella shares the day-to-day challenges and benefits of a harvest internship, as well as tips for anyone considering applying to work a vintage.
My first experience working in the wine industry was the exact opposite of my previous office job - it was sticky, dirty, and simply electric! My story in wine begins in January 2020 as I left my WSET Level 1 Award in Wines exam feeling confident and hungry for more. Then I met Ali Huerta and Jeremy Gruber, who between them had worked seven harvest internships in California and New Zealand. Our conversation lasted almost two hours – they were completely honest about the backbreaking work involved but also about the pride and euphoric joy that comes along with it.
I was sold.
In July 2020, I left my home, friends, family, and a stable job in Chicago - in the middle of a global pandemic - to live in Sonoma, California and fulfil my dream of frolicking through the vines in overalls tasting grapes, and making wine.
What came next? Well, everything I envisioned minus the overalls! 
Safety first
Before we could do anything else, all interns had to complete a thorough safety precaution training process. "Winemaking can be dangerous if the proper protocols are not followed," Jeremy Gruber, the Cellar Lead at Hamel Family Wines, states. "Heavy machinery is being used, CO2 is being produced by yeast and displacing oxygen, and interns are working together, but also independently."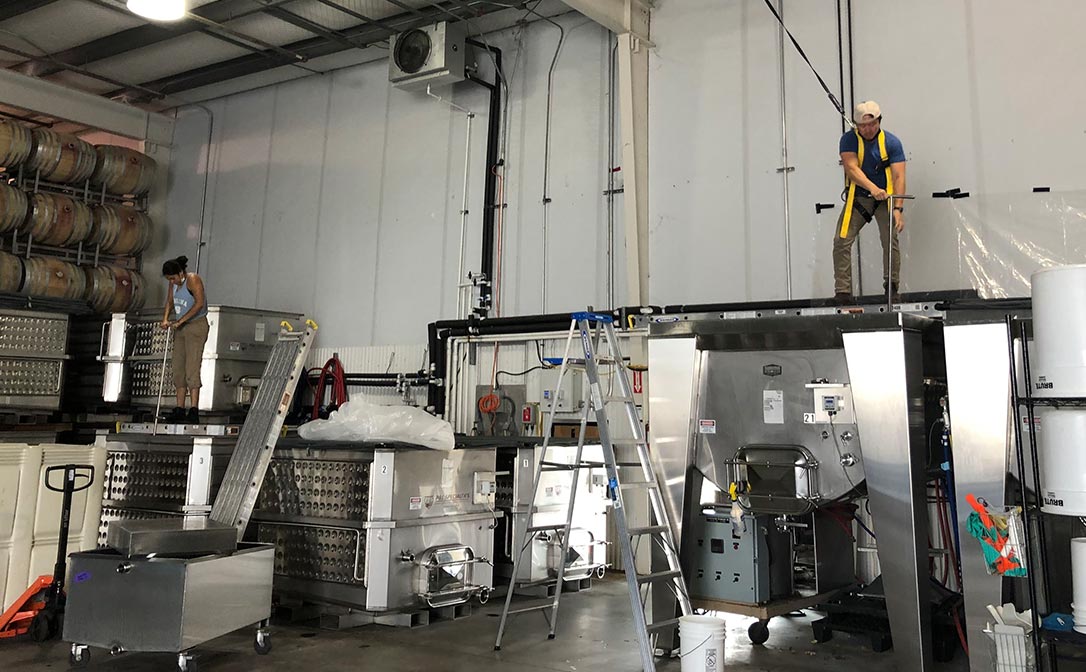 Rafaella and a colleague performing manual punch downs to break through the cap forming at the top.
What is a typical day like as a harvest intern?
There are multiple phases and tasks involved in the whole process of winemaking. Depending on the winery team and production size, as a harvest intern, you may be assigned to repeat the same job every day, such as measuring the Brix (sugar content) of every tank. Or, typically at wineries with smaller teams, you may take on more varied responsibilities, as was the case at the small winery where I completed my internship, Three Sticks Wines.
Days began around 6am. During the first few weeks, a typical day was spent cleaning equipment, taking samples from the vineyards, and ensuring that all tools worked properly.
Once picking began, some of my fellow interns and I assisted with processing the incoming batches of grapes. We sorted through the clusters as they were dumped onto a conveyor belt that carried the grapes to a destemmer.
Curious to discover more about the basics of grape growing? Our internationally recognised Level 1 Award in Wines will give you the foundation of knowledge to begin your journey in wine.
Click here to find out more.  

Sorting through a block of Chardonnay grapes before loading them onto the press.
Others managed the press or worked on punch downs and pump-overs at set intervals throughout the day. As an intern, you may also be tasked with taking samples from each tank and barrel to measure the Brix and temperature level. This is a crucial assignment to identify whether an addition, an increase or decrease in temperature, or vessel change was necessary.
Once a tank completed fermentation, the free run juice was removed from the tank, and interns dug the remaining pomace (the solid remains of the grapes left after pressing) out.
Other post-fermentation tasks included topping up barrels, lees stirring, and racking – a clarification process performed several times to eliminate unwanted lees and sediment.
Pro-tip: "Before committing anywhere, it's important that you have a strong understanding of what your responsibilities will be. Ask whether there are opportunities to learn from the full-time winemaking team. Ask what the unique perks and benefits are, besides your normal compensation."
Jeremy Gruber, Cellar Lead at Hamel Family Wines
What are the benefits of a harvest internship?
Besides saving on a gym membership, you will leave with new skills and experiences that may be applied to any job, whether you decide to stay in the cellar, move elsewhere in the wine industry, or move on to another sector.
If you work in the industry, you may approach vintage experience as an interactive course on how the product you sell is made. Terah Bajjalieh, winemaker at Dorcich Family Vineyards and Terah Wine Co., noted how winemaking has helped her communicate and explain how and why different techniques impart certain aromas and flavours to quizzical consumers. Terah also commented, "Having a better understanding of the really hard work that goes into making a bottle should make you more appreciative and value the finished product." Charlotte Berdensey, a sommelier retailer at Convive Wine & Spirit NYC who worked a 2020 harvest, adds, "I feel like I can contribute more knowledge with my firsthand experience and therefore I have more confidence discussing the subject".
For those who do not remain in the wine industry, there are many transferable skills. Discipline and stamina (as you may be working 10-12 hours six to seven days a week), excellent communication and adaptability (as the grapes, yeast, and other forces of nature are in control of the timeline here).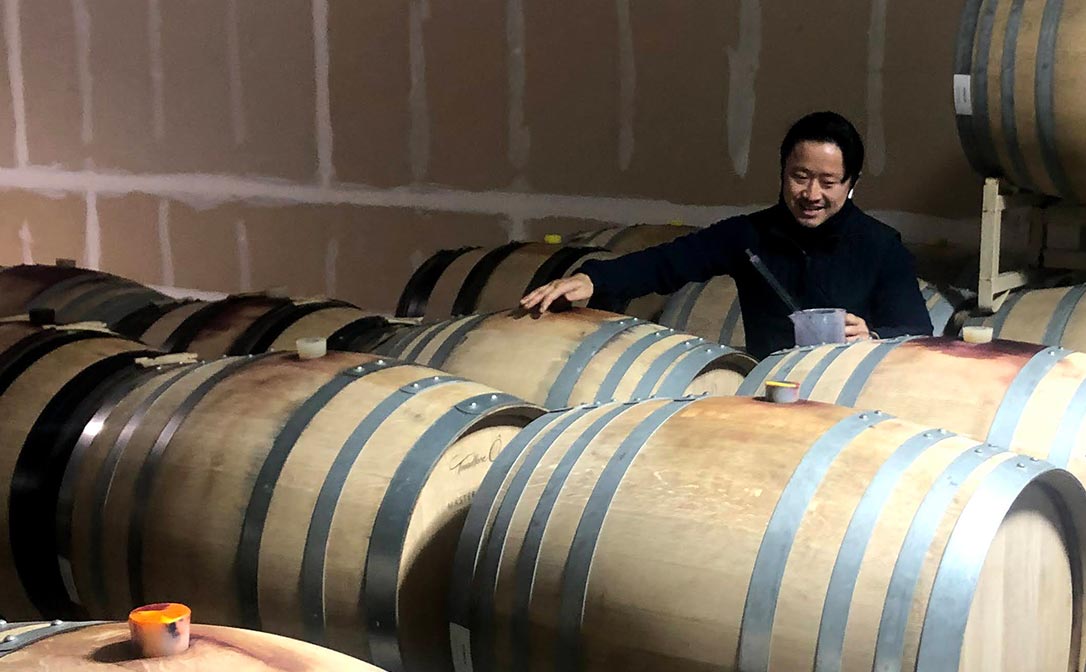 Taking samples of the 2019 vintage. These samples are necessary when tracking the evolution of finished wine before bottling.
Isabella Morano, a sommelier at Habibi Wine Bar and future winemaker, sums it up: "The skills I gain from working harvests extend to every part of my life. Harvest pushes you to your physical, mental, and emotional limits. I've learned that I'm nothing without my community... No matter what happens (a viral pandemic, wildfires, extreme heat), the show has to go on!"
While most harvest internships will provide you with all the training you need, personally, I found going into the harvest internship with my Level 2 Award in Wines gave me the space to think critically. Knowing about grape structure and the basic winemaking process allowed me to ask pertinent questions regarding vine structure and chemical reactions. As I am now studying for my Level 3 Award in Wines, I'm aware of how much I gained from working a harvest, as I can look back on photos and notes I took and apply those to my learning.
If you're keen to learn more, discover the style and quality of wines made from 22 grape varieties produced in over 70 regions around the world. Click here to find out more about the Level 2 Award in Wines.
Why should people consider working a wine harvest in 2021 and beyond?
The wine industry has evolved exponentially in the past year, and it continues to transform. Because of the global pandemic, travel restrictions have inhibited those who typically 'chase harvests' or work a Northern Hemisphere harvest in the Autumn, followed by a Southern Hemisphere harvest in the Spring. In California, where I am based, there was previously a strong international talent pool, but domestic interns are in high demand for the 2021 harvest because of current visa restrictions. Right now, if you live near a winemaking region, there are great opportunities to jump into a harvest "locally". You can always try for an internship abroad next year. Carl Formaker, Assistant Winemaker at Three Sticks, reminds us that "The wine industry has no borders".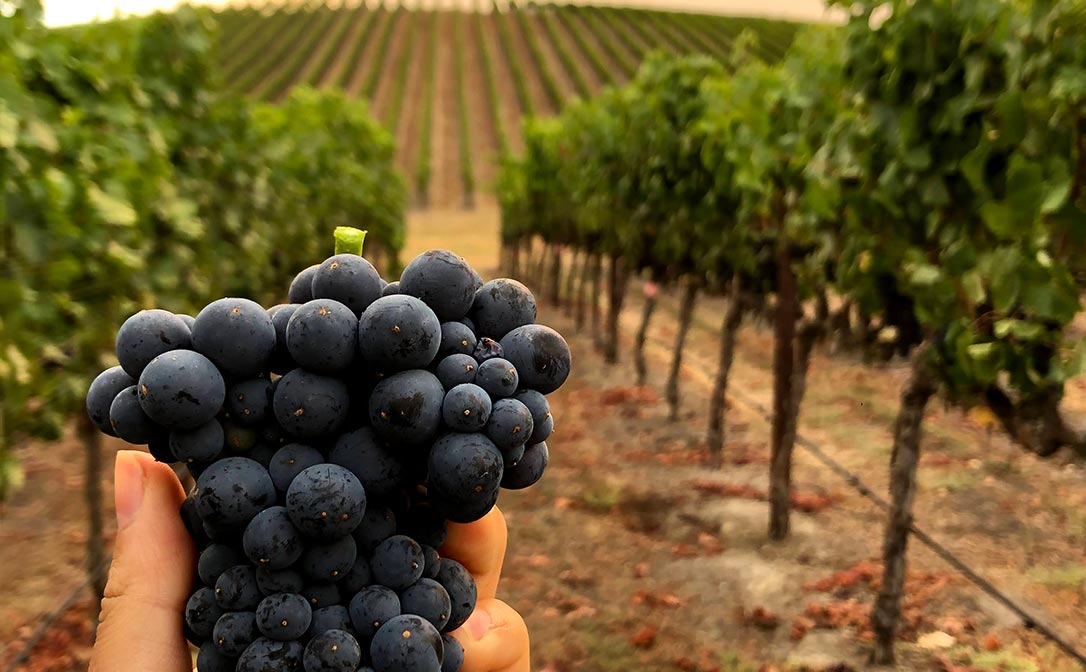 Taking Pinot Noir Cluster Samples at Three Sticks 'Wines' Gaps Crown Vineyard. Samples are used to measure the readiness of the grapes and give us a better idea of when to pick certain blocks.
Most importantly, there is a need and desire to diversify the space. For me, as a Mexican-American woman, I felt very much a part of my vintage family. I was able to connect with the full-time Cellar Hand and Cellar Master, who shared my Mexican heritage. One of my favourite memories involved playing our favourite Latin music as we finished our tasks for the day. We are starting to see the shift in some cellars, but there needs to be a stronger representation of BIPOC, Women, and LGBTQIA+ in winemaking and viticulture. It builds a stronger community and contributes to the much-needed diversification of the drinks industry.
How do you find a role?
There are many different ways you can find a role as a wine harvest intern:
Wine specific job sites: there are several job boards worth looking at, such as winejobs.com (US), winejobsaustralia.com (AUS), and winejobsonline.com (NZ). A google search should reveal others in your region.
Get in touch with a winery. Don't be afraid to email your favourite wineries or winemakers directly. If this is your first harvest, it's a good idea to try and connect with people in the industry to get a better sense of what to expect from specific wineries.
Join online communities. Some highly recommended groups are California Interns 2021 and Travelling Winemakers - Living the Dream on Facebook.
Some of the winemakers I've mentioned in this blogpost, Terah (Dorcich Family Vineyards) and Jeremy (Hamel Family Wines), are still taking applicants for this year's harvest.
Before you hit submit on the application, there are a couple of things to be aware of:
Wineries are not necessarily looking for the most knowledgeable person in the room. Winemakers I've spoken to agree that they are looking for enthusiastic, curious, and flexible candidates. "Ultimately, bringing a positive attitude, a strong work ethic and willingness to perform any task, as trivial as some of them may seem, is essential to creating a high-quality wine," advises Carl Formaker of Three Sticks Wines.
Also, working as an intern for a wine harvest rarely offer high rates of pay. For example, the average salary in the US is $15-25 USD/hour, which may be challenging. However, wineries may offer overtime pay, and you will more than likely be working over 40 hours per week (you could reach an average of 80 hours during the peak of harvest). Some wineries may also offer free meals and/or lodging. It's essential to check what benefits you can expect before you commit.
How did my harvest internship affect my career in wine?
My first harvest experience opened a flurry of opportunities within the industry and allowed me to understand my strengths to further build my career. In addition, it gifted me a strong community of supportive individuals. Every time I pick up a bottle of wine, I am reminded of the passion, hard work, and many dedicated hands it takes to create the product.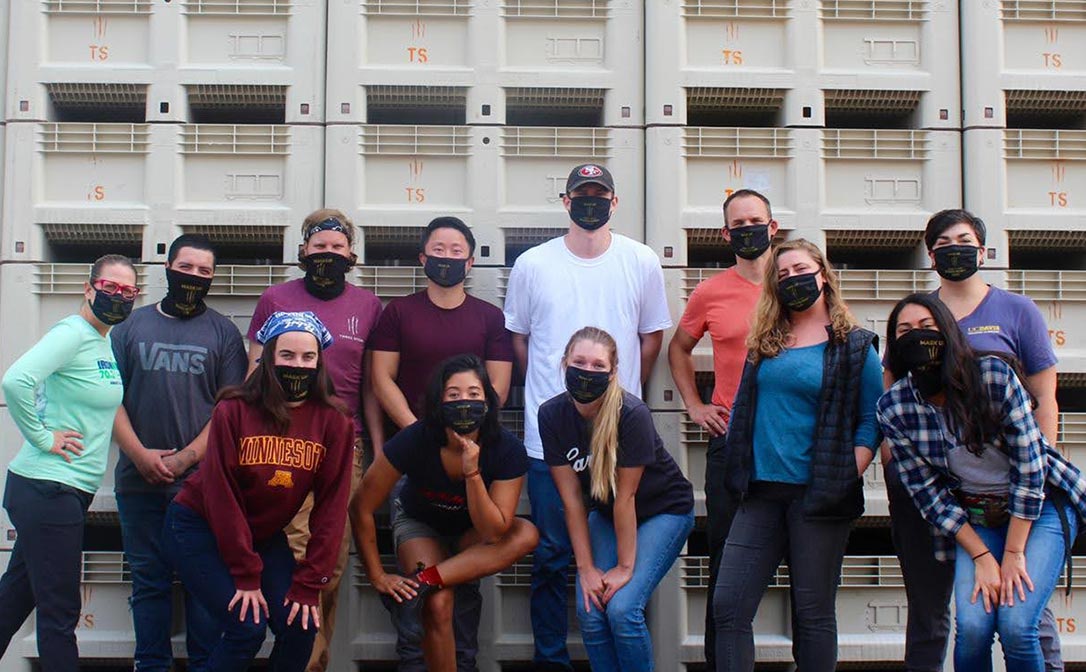 My intern group, with Ryan Prichard, Winemaker, Carl Formaker Assistant Winemaker, Emily Wiemer, Enologist and Kevin Serna, Cellar Hand.
Working for WSET as an Account Development Coordinator is a privilege. It has been a joy to connect with our course providers, some of whom are wineries or involve winemakers in their curriculum.
Although I loved the practical experience of working a harvest, if you are unable to dedicate three months to a harvest internship, it does not prevent you from succeeding in your career in wine.
WSET wine qualifications can provide you with the tools to understand why wines taste the way they do. Pair that with a quick trip to your closest wine region for a well-rounded experience!
Prepared for WSET by Rafaella De La Vega, Account Development Coordinator WSET Americas
---
Related posts: