Richard Lane DipWSET originally worked in health and science communications and journalism, and he still freelances for The Lancet. A single moment sparked a passion that led Richard to become a wine student and then the first blind person to qualify as a WSET educator.
The journey begins
An optimistic barbecue on a chilly May evening in Belfast in 2015 sounds like an unlikely starting point for my wine journey, but the memory is clearly etched in my mind.
Our host, a member of the UK Wine Society, presented me with four glasses, two white, two red, and asked me what I thought. I considered myself an experienced consumer, if not anything resembling a connoisseur of wine.
I can almost taste those wines now; a crisp Sancerre, tingling my mouth with its vibrant acidity and fresh grass and gooseberry; another white, less acidic, with vanilla and spice notes - what turned out to be a new world Chardonnay.
One of the reds tasted all plump ripe plums with something resembling roses or violets on the nose- a Malbec from Argentina. At the same time, the last wine seemed to somehow miraculously blend delicious red and black fruit with notes of cedar and smoke while also reminding me of an old leather armchair and the smell of an autumn forest - a 10-year-old Haut Médoc.
On the Level 2 Award in Wines, you'll learn about principal grape varieties, environmental influences on wine and important winemaking processes. To learn about how to take this course tap here. 
This really took me by surprise; why had I not noticed such exotic and fascinating aromas and flavours before? Then, answering my own question, I realised that my years of gentle incurious wine-sipping had been done without any informed decision making. Until that point in my friend's Belfast garden, wine was wine, an enjoyable drink to share with friends, but nothing to exercise the mind too much.
The first step, becoming a wine student
From that point on, life seemed to change. Just the smell of those wines, let alone their taste, had seemed to activate some part of my sensory system that had hitherto been dormant.
If anything, I was shocked, almost annoyed with myself that it had taken me nearly 50 years to have that moment of awakening. After all, being blind, a focus on the remaining human senses should have been something that I was already well-versed in.
Although I have had 30 years of practice, being blind is still never easy.

I immediately joined The Wine Society and, taking the advice of a close friend who had recently enjoyed taking wine courses run by an organisation called WSET, I promptly enlisted on a Level 2 Award in Wines course.
What fun I had doing the Level 2 Award in Wines and Spirits (as it was named back then) and discovering how much I did not know. I was aware of WSET's higher levels of study, but, at the start, all I wanted was some structured education to give me a grounding in my new hobby.
Hobby or obsession? Perhaps wine was already becoming an obsession, as The Wine Society's phone app (now sadly discontinued) enabled me to browse what felt like an almost limitless ocean of wine. And yet…much as I had enjoyed being a student at Level 2, I felt a little frustrated.
The next stage of my journey... deepening my wine knowledge
I wanted to know more about the strange-sounding winemaking technique in Beaujolais that kept tannins at bay and introduced funky banana and kirsch aromas and flavours; I wanted to learn more about the mysterious variety beginning with M that was so often blended with grenache and Syrah in the south of France and in parts of Australia; always more questions, which of course led me to take the Level 3 Award in Wines.
Soon after completing the Level 3 Award in Wines, my wife Liz, guide-dog Topper and I moved to France for a year, part of a long-term plan to have a year away from home and work.
Surrounded by vineyards close to Bergerac, I soon started to appreciate wine in a much deeper way, as I tried out my average French on local growers and winemakers. I began to see the context of wine in its agricultural sense and its value to local economies (not much of Bergerac's wine is exported).
I remember the fuzzy feel of noble rot on botrytised grapes in Monbazillac and wandering around underground caves near Saint-Emilion – once the home of the resistance in World War II, now home to around a million bottles of the Chateau de la Riviere (AC Fronsac) which drove my curiosity still further. I enrolled on the Level 4 Diploma in Wines as soon as we returned to the UK.
From student to teacher, becoming a WSET Educator
I was halfway through my Diploma studies (all done via classroom sessions at WSET School London) when I let my mind wander for a few moments during class. I imagined that I was up at the front, running the session, looking out towards the rows of desks and students. Could I do that?
My advice is simple. Work hard, work consistently, taste well, but do not over-taste. The Diploma journey is a marathon, not a sprint.

Once I passed the Diploma early in 2021, the WSET School London sponsored me through the WSET Education Training Programme. This was delivered entirely online due to the UK lockdown at that time. I was slightly apprehensive, not so much about the course, but more about the logistics of being able to communicate effectively with the educators and other students online. But I need not have worried, the training programme was superbly delivered, and our group of eight all passed.
I started teaching the Level 2 Award in Wines at WSET School London in June this year. My main concern was (and still is) time management. As I must listen to my computer screen reader prompting me with notes of the educator's session plan, there is a risk that I will over-run as presenting is not as fluent when you are reliant on a voice in your earpiece.
The first session I taught over-ran by half an hour, but I have since honed my technique, shortened my audio prompts while still covering all the required content of the session. Most importantly of all, I now have a wonderful friendly sighted assistant. David Crombie is a retired accountant who has agreed to support me in class. Other than the important job of meeting me at London Bridge station and guiding me to Bermondsey Street, David helps with my computer set-up and runs the PowerPoint presentation which is a huge relief.
David Crombie and Richard Lane DipWSET
Overcoming challenges
Although I have had 30 years of practice, being blind is still never easy. From a Diploma student's point of view, I was generally in a good position – all the study materials were provided as electronic text files which I could read through on my computer or phone screen reader with speech output.
Identifying the appearance of wines was obviously a challenge and something WSET School London and I had to address with the Awards Department. I had to complete appearance details in blind tasting exams, and only the basic appearance of the wine (red, white, rosé, or brown referring to an oxidised style of fortified wine, for example) could be described to me. But I was also allowed extra time (under the 'reasonable adjustment' policy for disabled students) to complete tasting and theory exams. I am sure that any points I lost on appearance were made up for by the additional time made available to me.
On reflection, I believe I spent too much time tasting in the tasting exams; often changing my mind about wine assessment and convincing myself that my initial instincts were wrong. This is not a good approach, so my motto from now on (not that I have any more tasting exams ahead of me, thank goodness), is to taste with more confidence. I visit trade tastings regularly and taste with a wine expert friend near my home in Farnham, Surrey, so my palate is in reasonably good shape.
There is no doubt that wine and the WSET have changed my life. And it all started at that chilly barbecue in Belfast...Wine is fascinating, complex, and ever-changing. We all have the potential to have our lives enhanced by this extraordinary liquid. Alcoholic drink or cultural commodity? Both of course, but it is the latter description that most interest me.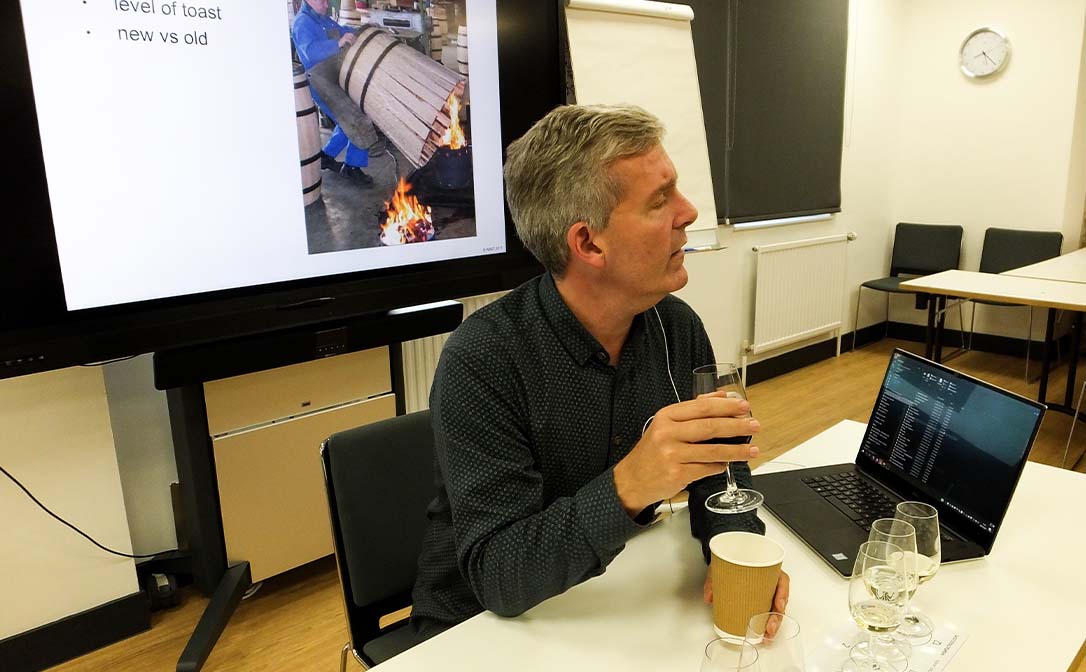 My advice for Diploma students
My advice is simple. Work hard, work consistently, taste well, but do not over-taste (see above). The Diploma journey is a marathon, not a sprint.
Organisation (of notes, study time, revision schedules, etc) is paramount, and being well organised and not fearful will put anyone in good stead to do well.
And while this is easy to say, and less easy to do, the most important thing to remember, especially as Diploma exams loom, is that wine is enjoyment, one of the greatest human enjoyments that connect people from so many different backgrounds and world regions. It is a privilege to be part of it. Come out the other side enriched and with your knowledge enhanced, ready for the next chapter of your wine journey.
Written by Richard Lane DipWSET
---
Related content: