I undertook the Level 1 Award in Wines via the WSET Online Classroom during the pandemic, and straight afterwards I took the Level 2 Award in Wines in a classroom. Undoubtedly there are huge differences between the two experiences, but both offer unique benefits.
Online classroom
Getting started with an online course
To enrol on any WSET qualification, whether it's online or in-person, the best thing to do is to visit WSET's "Where to Study" page. Here, you'll find listings of all WSET's approved course providers, and you'll be able to filter your search by location, qualification, and mode of study.
Once I had signed up with a local course provider*, I received an email inviting me to log in to the WSET Online Classroom.
I was greeted by a warm welcome message from WSET explaining what the Level 1 Award in Wines would entail and what to expect.
What was it like to study online?
The first task we were assigned was introductions! We said our hellos to the rest of the class and used the online discussion forum to get to know each other. It was great to see where people were studying from and have a chance to interact. This became a running feature throughout the qualification and provided me with extra study support and an awesome networking opportunity.
The course was delivered in a series of modules and every module had an activity, lessons, revision flashcards and a quiz to summarise what I had learnt. The activities included tasting parts of a grape, comparing white wines and much more.
When revising, the flashcards proved particularly useful paired with the notes I had been taking.
How was I supported?
One of the first things you see as you log in to WSET's Online Classroom is a diagram with the best practices for using the e-learning platform. This diagram gives you the low-down on any technical information that you might need, including details such as: which devices are best (remember not to use Internet Explorer) and how to use it on mobile (Yes, it's possible!)
Furthermore, you are instantly introduced to your educator. Your educator is there to help you throughout the modules of the course, mark your work, give you feedback and guidance. There's also a chat feature where you can reach out to ask questions about the material.
In addition, when it comes to one of the trickiest parts – the exam – there's an entire page and YouTube video to assist you with setting up the remote invigilation.
How was I examined?
The final exam was also online. Beforehand, I was alerted about the key details of my exam via email. This told me that I would have 45 minutes to complete 30 questions. It also informed me when the exam would take place at a specific time. The Online Classroom also provided a page full of useful information about the remote invigilation, including a video that gives you precise instructions on what to do.
When the time came around to take the exam, I logged on and followed the pre-exam checks. This included checking my browser and broadband capacity. The exam consisted of multiple-choice questions on a browser page.
I was also required to download an app on my phone to help invigilate the exam. The app recorded me and made sure that I was taking the exam properly. The exam went as planned without any major hiccups and I was over the moon when I received my results. After about a month, I received an email and found out that I had achieved 100% in the exam!
Key benefits:
The portal was easy to navigate with some good teaching resources
I really enjoyed the flexibility the online course gave me. I could log in and study when I wanted, which fit well around my lifestyle and commitments.
In-person experience
What was the experience like?
As with my online course, I enrolled with a local course provider* and was sent an email confirming all the details of the qualification. I received the textbook, study guide and Systematic Approach to Tasting (SAT) lexicon for the Level 2 Award in Wines via post.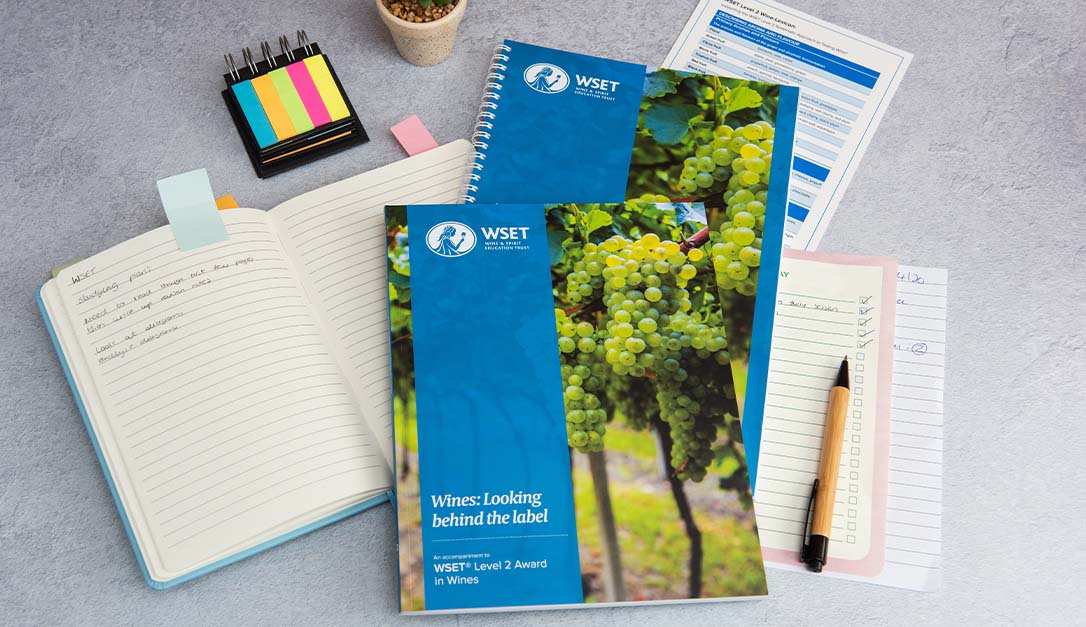 When I arrived on the first day, I registered and met my teacher and fellow students. We were socially distanced in the classroom but still able to converse and taste together.
The first session covered some similar themes from the Level 1 Award in Wines in more detail, such as grape growing, geography, and the process of winemaking. We covered tasting and the labelling of 30 different wines from around the world over the next couple of weeks.
I particularly enjoyed the Italian wine tastings in the second week and discussing sparkling wine production methods in the final session.
Studying with WSET School London meant I had access to supplementary learning materials via WSET's Online Classroom which proved especially helpful with my revision. I would recommend checking with your course provider to see if they offer additional learning tools beyond the classroom.
How long did my course take?
My preferred course provider offered a number of options in terms of course delivery, such as learning over consecutive days, one evening a week, and attending classes one day each week. I chose to complete my Level 2 Award in Wines over the course of three consecutive Mondays. The last day would include the exam...
However, this isn't necessarily true for every Level 2 Award in Wines as each course provider can be different around the world, but you should have a minimum of 16 hours of classroom time.
To successfully complete the qualification, you will need to complete some home-study and revision work around the classroom. This totalled to around 10 or 11 hours of private study.
What was the exam like?
I took my exam in person and the process was straightforward. On arrival we had to register, then before the exam started, leave our bags with books and mobile phones at the back of our exam room. The exam consists of 50 multiple choice questions which you need to complete within an hour, I found that this allowed me enough time to thoroughly check through my answers.
If you'd like to learn more about grape growing regions around the world, the WSET Level 2 Award in Wines offers insights into the style and quality of wines made from grapes grown in over 70 different regions.
Click here to find out more.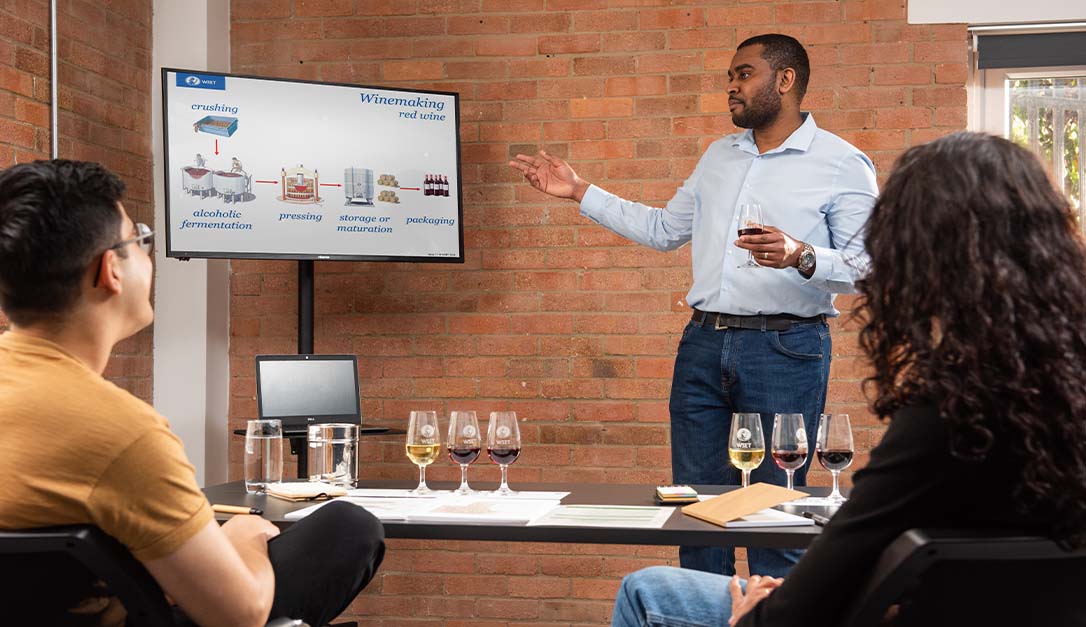 After a month or so, my course provider sent me my results and I was delighted to discover that I had achieved a distinction, all the revision had paid off! Shortly after this, I received my pin and certificate for completing the qualification.
If you're interested in signing up for either the Level 1 or Level 2 Awards in Wines, head to our Where to Study page to find a course provider in your region.
Key benefits:
Tasting in-person is a fantastic opportunity to compare notes and learn from your teacher and peers.
Being face-to-face with the same class meant I could make some friends and get to know some more people in my industry.
Written by Marcus Hill, @mjh_wine
*I enrolled with WSET School London. Much of my experience is likely to be similar to other course providers, but different course providers may offer additional learning support and have unique administrative requirements.
---
Related content: