Venturing into the world of wine can be a daunting experience. It carries its own jargon and terminology, but how much more challenging is it learning the language of wine when your first language is sign language?
We spoke to Laura Brown Unterstein, wine educator, sales and marketing professional and nationally certified American Sign Language Interpreter, and Peter Cook, internationally reputed Deaf storyteller and poet.
We asked them about their ambitions to create an accessible space in the wine world for Deaf enthusiasts and professionals and founding the organisation "Uncorked Access" as part of that mission.

Watch Peter translate some of the SAT® into American Sign Language
Introduce yourself, who are you and what do you do?
Laura Brown Unterstein: I work in sales and marketing for Maysara Winery, Oregon, as a wine educator with virtual hospitality company Vin Social and am a nationally certified American Sign Language Interpreter in Nashville, Tennessee.
From working in hospitality, I began to get really interested in wine while living and working in Los Angeles, where I started to learn the ins and outs of tasting and talking about wine with my guests. Fast forward a few years, and I began working as an interpreter full-time, with my desire to communicate about wine continuing to grow.
Wine became a hobby and source of travel inspiration and I soon passed my WSET Level 2 Award in Wines and soon after, the WSET Level 3 Award in Wines qualification with a distinction.
Now, I see my future as a convergence of my two passions: getting people excited about wine, while helping to create an accessible space in the wine world for Deaf enthusiasts and professionals.
Peter Cook: I am an internationally reputed Deaf storyteller and poet, and have been travelling around the world since 1984. Often after my performances, I would be invited to join people for dinners, and I became curious to know what I was drinking.
I took my first wine class at the American Wine School, a WSET accredited programme, and I was hooked from day one! I have my WSET Level 3 Award in Wines with distinction and am a wine educator, teaching workshops about Wine and American Sign Language.
I advocate for greater access in wine and hospitality for employers and consumers. I also provide my expertise in visual information related to viticulture and vinification in the wine industry for greater, more equitable language access. I am currently the Chair of the ASL Department at Columbia College, Chicago, where students are trained to become professional sign language interpreters and community advocates.
Are you ready to step up your skills to the next level? The Level 3 Award in Wines provides a detailed understanding of grape growing and winemaking. Tap here to find out more.

Laura Brown Unterstein
What is Uncorked Access? Where did the idea come from?
Uncorked Access is a wine education access organisation with a mission to eliminate accessibility barriers within the wine world. We offer workshops, speaking engagements, and consultancy to the wine and hospitality industries on how to become more Deaf-friendly. This includes, but is not limited to, introducing the manners and nuances of Deaf culture, nonverbal communication, visual aids, using available technology, and basic wine-related signs.
On the flip side, we also offer American Sign Language (ASL) wine education, so that the American Deaf community can experience the joy of wine directly, in their native language. We see this two-pronged approach as a comprehensive way to engage everyone, no matter where they're at in their wine or accessibility journey, to bring them to the same table.
Laura: The seed of this idea was planted years ago when we did not even know each other. I had travelled to the Southern Rhône, and couldn't help but wonder what the experience would be like for my Deaf friends.
The following year, I took the WSET Level 2 Award in Wines and knew this was an idea to pursue, but it had to be with the Deaf community. I collaborated with City Winery, Nashville, for Deaf Day accessible wine tours, but kept my work at a local level - I felt a strong urge to wait, that forging ahead alone was not the right move.
In 2019, a fellow interpreter asked me if I knew (the famous) Peter Cook, and informed me that he had also gone through WSET certifications and offered ASL wine workshops. Shortly afterwards, we were emailing, on FaceTime, and brainstorming. We started reaching out to movers and shakers in the wine community and officially came up with Uncorked Access as a name and organisation in 2021. This was years in the making; the result of patience, aligned partnership, and the right timing.
What are some of the biggest challenges to learning about wine using ASL?
Peter: For me as a WSET student, it was critically important that I was able to access the contextual information to engage in the professional wine industry.
I am fortunate that most of the information was written where I can make notes. However, during the class presentation, I would need a sign language interpreter to facilitate communications from the instructors, as well as the peers in the classes. Not all video instructions are captioned, and I would have to rely on voice-based auto-captioning, which is often inaccurate.
The tasting posed the biggest challenge for two reasons: firstly, it was crucial that I learn the Systematic Approach to Tasting (SAT) terminology and syntactical discourses during the assessments of wines, seeing exactly how the descriptions are used in spoken and written English, which differs from American Sign Language.
It is a common misconception that ASL is a signed version of English, which is not correct. In fact, ASL is a fully-fledged separate language, with its own vocabulary, syntax, grammar, rules, etc. This can be an issue for WSET's tasting exams, where you're awarded marks for using specific discourse and terminology.
Secondly, most students benefit from tasting and studying with peer groups, where they can have discussions, which are quite challenging for me to follow, even with interpreters. That is why I am a strong supporter of signing tasting groups so the Deaf stakeholders can converse in sign language during the tasting.
How valuable have WSET qualifications been for you in progressing your career in wine?
Having WSET credentials has been the key to opening doors for Uncorked Access. People all over the world recognise the standards set by WSET, and it gives us not only a certain credibility in the wine industry but also a sense of community and connection with others who have gone through the WSET programs.
Specifically, we want to hone in on expanding accessibility in the wine tourism industry, and we both love to travel ourselves. The international recognition of WSET within that field really sets the stage for developing strong professional relationships.
Both of us feel that our WSET qualifications have been, and will continue to be, an invaluable asset. We're both lifelong learners, so the progressive depth of information, presented in such a structured way, is both motivating and inspiring for our passions for wine.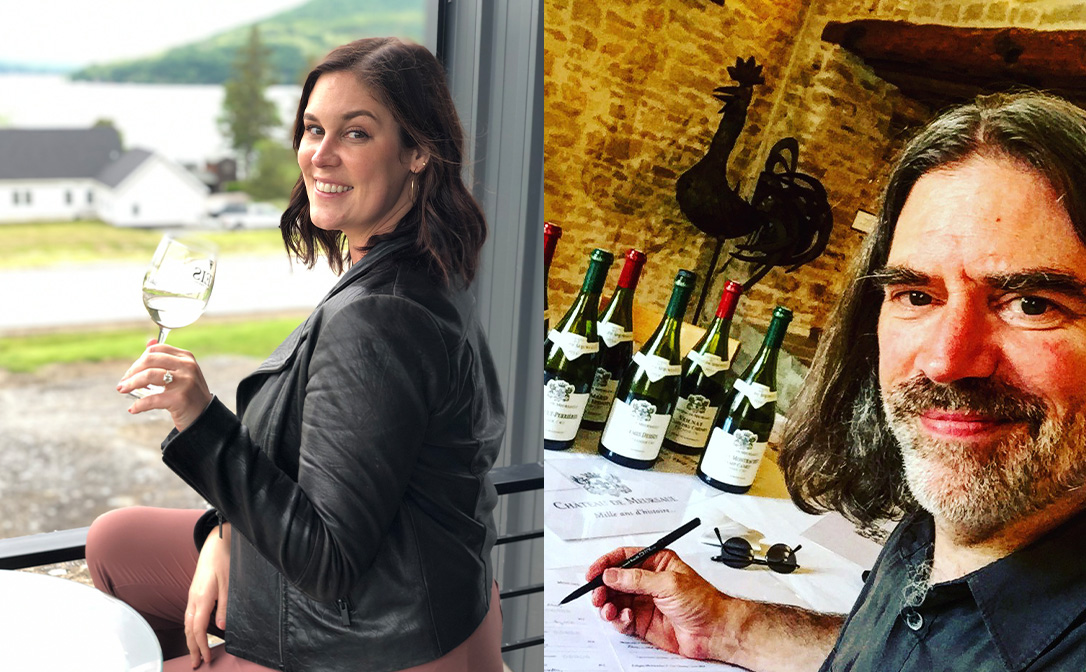 What are Uncorked Access' ASL's plans for the future?
Ultimately, our vision is to see Deaf wine professionals in leadership roles, with equitable access to employment, educational positions, and simply to the joy of wine events.
Providing sign language interpreters, captions, etc. is a wonderful start, but that maintains a degree of separation, with only hearing wine professionals at the helm. We predict seeing more Deaf students who are interested in pursuing a pathway to the wine profession, and we hope to be an instrumental part of creating a fully accessible curriculum for wine education and certifying bodies.
We want to partner with both Deaf and hearing-led organisations to spread the word, get people excited about wine, and invest resources into the goal of access being the new standard. We're so grateful for the wine professionals who are already on board with this, and with some partnerships developing that are leading to Deaf wine events and even ASL winery tours.
So far, the opportunities coming our way have been beyond what we thought possible in such a short amount of time, so we're keeping a loose grip on specific plans because the sky's the limit!
What is the one win that Uncorked Access would like to realise within the next three years (or less)?
We want to see access proactively offered without requests. Here in the United States, the Americans with Disabilities Act (ADA) is a thirty-year-old federal law that promises accommodations upon request to ensure access. But let's be honest, this is the bare minimum, and so many people in any position of power are either unaware, try to find loopholes, or simply ignore their legal responsibilities, often without consequence.
Not only that, but when Deaf people do make a request, they typically know that they're gearing up for an exhausting fight for access. It's like putting on armour to anticipate the excuses, the downgrades, and deciding which battles are worth fighting for.
If our work can help create a new standard, one in which access is the norm, that would be an enormous win for everyone. We think the wine industry would see an outpouring of Deaf interest and engagement, which will offer new consumers, perspectives, and talent to the established wine profession, as well as new pathways to the Deaf community.
What is one question or thought you would like to leave with the hearing people community for contemplation after reading this blog?
One does not need to be an expert when communicating with Deaf consumers; there are many ways to convey messages that you already have the tools for. You can use nonverbal communication to express your thoughts. Think about your facial expressions, eye gaze, body language and gestures!
The more you use, the clearer the communication becomes. Maps, charts, and tasting notes are great visual tools to use when engaging with Deaf consumers. Not only will they aid in access, but everyone, hearing or Deaf, will gain more knowledge about wine, regions, and the vinification process with visual aids.
Also, because the Deaf community is a spectrum and not everyone uses signed languages to communicate, these kinds of tips are inclusive across the board. We know access might seem overwhelming, but we encourage you to start simple and build as you go. We promise this will enhance the experience for everyone!
Both Laura and Peter have achieved their Level 3 Awards in Wines, with distinction, and are wine educators.
You can find out more about Uncorked Access here.
---
Related content: