We caught up with two recent WSET Diploma graduates, both prize winners, to find out what first inspired them to learn about wines, their tips for success with the WSET Diploma, and how they're using their knowledge and skills now.
Each year The Vintners' Cup is awarded to the graduate who achieves the highest mark across all units of the WSET Level 4 Diploma in Wines. On 19 April, during our annual graduation ceremony at London's Guildhall, it was announced that this year's Vintners' Cup went to Felicity 'Fliss' Cox (pictured left), who studied at WSET School London.
The sixth WSET Outstanding Alumni Award, which is awarded in partnership with JancisRobinson.com, recognises alumni who have made an exceptional contribution in the global drinks industry. This year's winner is Alexandra 'Alex' Schrecengost (pictured right) who studied at the International Wine Center, New York.
Feeling inspired to begin your own WSET Diploma journey? Find out all about this life-changing qualification today.
Vintners' Cup winner: Fliss Cox DipWSET
Fliss grew up in Merseyside, England, in the 1960s and 70s. She had a career in marketing and strategy before meeting her husband Tim, who ran her local wine society. About ten years ago Fliss decided to step off the 'corporate ladder' to spend more time with her family. That's when she began to help Tim with his business, Tim Syrad Wines – an independent wine merchant that runs monthly wine societies in London and global wine tours.
"Stunned and surprised", says Fliss of her award win. "My first thought was 'I wonder how many people have turned this down for them to offer it to me?' Fortunately, Tim was there to tell me to stop being silly, and to be proud of my achievement. To be honest, I still can't believe I won it, though I knew I had worked very hard."
What (or who) inspired you to begin learning about wines?
In my 20s I moved around quite a lot. I lived in both New Zealand and Spain which, in very different ways, gave me opportunities to find out more about wine, particularly trying different styles while travelling. But it was when I moved back to London in my 30s that I put time aside every week to go to evening classes and study. From then on I was hooked.
What do you think is special about studying for WSET's flagship wine qualification?
It was clear that Level 4 is a massive step up, requiring you to study in detail the science of vine growing and wine making, the economics of the wine business and the nuances of different wine regions and the cultures that are behind them. You develop some amazing knowledge about how wine is made, what makes different wines different, and how the wine business works. The syllabus is incredibly diverse, and it gives a wonderful launchpad from which to explore all sorts of aspects of the world of wine.
Did you ever feel like giving up? And if so, what inspired you to keep going?
During Covid I felt as though I was just doing 'book study'. I would read materials, take notes, read the notes and then try to remember what I had learnt by answering 'dummy questions'. It was painful. But I discovered a technique that helped...
Someone advised me that to learn something you should teach it. So when I took our dog for a walk I taught her. Talking aloud to her about a topic made me realise what I had understood and what I hadn't, and helped to lock in more of the learning. And I now have the bonus of owning the Border Terrier with possibly the most wine knowledge in the world.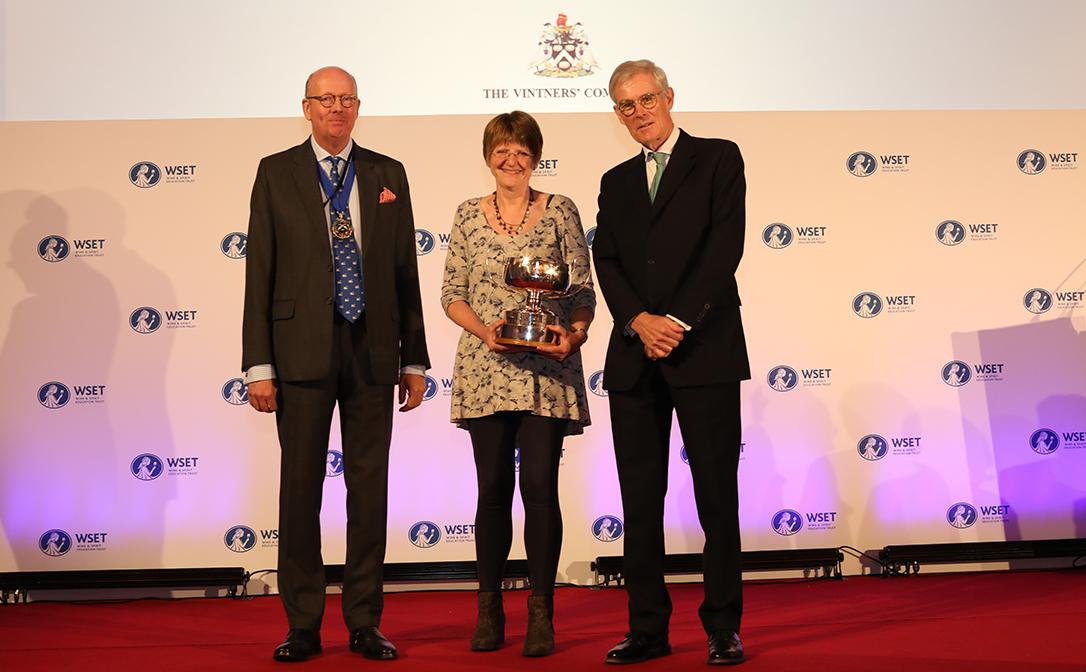 Photographed left to right: Edward Berry, Master Vintner; Fliss Cox, Vintners' Cup winner; and Paul Symington CMG, former-WSET Honorary President.
Outstanding Alumni Award winner: Alex Schrecengost DipWSET
The sixth WSET Outstanding Alumni Award went to Alex Schrecengost from New Jersey, USA. The 2021 Wine Enthusiast 40 under 40 Tastemaker, Alex was chosen for her work in the wine and drinks industry, for the creation of her organisation Culture With Us during the global pandemic in 2020.
"As food and beverage professionals began to be laid off and furloughed at the start of the pandemic in 2020 and workers retreated to their home offices for an amount of time, I knew there was something I could do for my network of wine and spirits professionals, from producers and distributors to sommeliers, chefs, and other hospitality experts", recalls Alex. "Before too long, I had created Culture With Us – a platform for businesses and other organisations to plan wine-centric virtual and hybrid events."
"I am truly humbled by this honour and believe that this award will continue to help my mission in diversity and equitability; driving inclusion around the world and allowing everyone to have a seat at the table – no matter who they are."
How important do you think education is to the drinks industry?
It is so important to continue to learn. Wine is incredibly challenging and, at times, intimidating for so many; and as someone who was handling the communications around wineries and wine regions, I wanted the knowledge and the understanding of what goes behind the grape juice we all love, to be able to articulate confidently in all of my work.
I chose WSET for its excellence and standard in the industry. In the end I met so many people that taught me different perspectives from different parts of the wine industry – from sommeliers working the floor to winemakers to marketers and collectors.

Photographed left to right: Paul Symington CMG, former-WSET Honorary President; Alexandra Schrecengost, Outstanding Alumni Award winner; and Tamlyn Currin, Sustainability Editor at JancisRobinson.com.
Alex and Fliss share their top tips for anyone studying or thinking about studying for the WSET Diploma:
Fliss: Make sure you have enough time to study. I was studying during lockdown, and I was able to devote lots of time to reading around the subject, so I was sure I had understood a topic. WSET gives guidance about how many hours of study time you should devote in addition to classroom time. I would double it. Use your classroom time to make sure you really understand a topic, and don't be afraid to ask questions – good tutors are really happy to go through things with you after the class is over.
My final tip is to remember you are doing the WSET Diploma because you love wine, and you are enhancing your ability to help other people understand it better and appreciate it more. Keep building your knowledge, and remember how lucky you are to be studying such an amazing subject.
Alex: We're a growing but still very small community entrusted with something very important to humankind: the art, science, and culture of wine, and everyone you encounter as you continue to learn and grow has something to teach you. Meet as many people as you can. Stay in touch. Bounce ideas off each other. Make introductions. And form true friendships, because that is the fuel that powers big ideas that change the game and continue to help the world of wine innovate in the best of ways.
The WSET Level 4 Diploma in Wines is available to study both online and in person through 35 Diploma centres around the world. Find a course provider that suits you through our Where to Study tool.