Scotland may be well-known for its abundance of whiskies, but the local gins have been increasing in popularity over the last twenty years or so. With new distilleries making their mark, spotlighting local botanicals, the industry can proudly stand alongside Scottish whisky.    
In a series of blog posts, we're learning more about Scottish gin with Martin Reid from The Gin Cooperative. Keep your eyes peeled for part two!
When did Scottish gin start to grow in popularity, and what do you think caused this?
Scottish gin has been around for a lot longer than many people realise. One of the key gin brands which I believe helped kickstart the gin renaissance is in fact Scottish. Combining a unique look with quirky and engaging marketing, an exciting story and an unusual garnish made people look and say, "Cucumber... in a gin?". The brand was of course Hendrick's; made in Scotland and now over 20 years old.
In 2009, Caorunn Highland Gin was released, the second in the new wave of Scottish gins. The years 2014 and 2015 stand out as noteworthy years, with several new distilleries opening their doors, with many offering visitor experiences. Some of the new wave distilleries were focused on whisky but saw an opportunity to create great Scottish gin whilst their whisky aged, providing time to grow their brands and reputations.
A big part of the growth and popularity of Scottish gin comes down to great storytelling and great products that combine regional folklore and legends, family stories, or the local landscape. Ultimately every successful Scottish gin has a story behind it. Throw into the mix that Scotland has a rich and long heritage of producing world class food and drink, Scottish gin sits comfortably in Scotland's crafted premium spirits portfolio.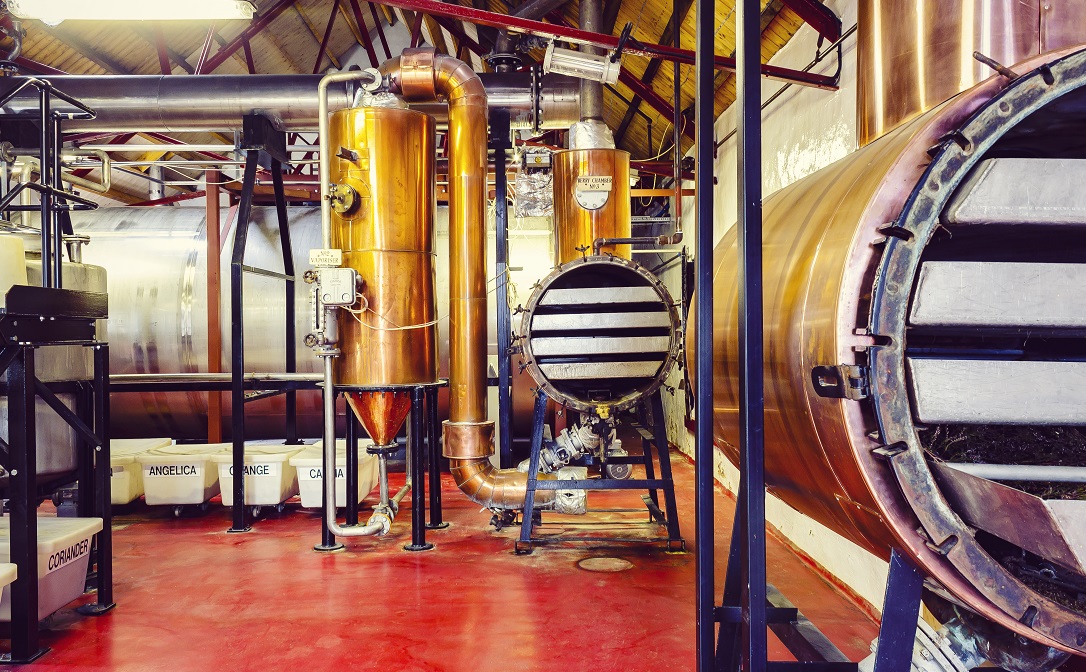 The Caorunn Gin Distillery is located at the Balmenach distillery in Cromdale, Grantown-on-Spey. (Pic: ©The Gin Cooperative)
What sets Scottish gin apart from other gins?
It's a difficult question to answer. I would be lying if I said one critical Scottish botanical was used in all the gins produced here. Plus, there are lots of great gins being made around the world.
I'd say most brand owners and producers feel responsible to themselves, their peers and consumers to produce quality liquids and to tell honest brand stories about how, where, and why they make Scottish gin.
Besides our rich distilling heritage, we have some of the cleanest, freshest water in the world. Our water plays a vital role in the quality of the gins and other spirits produced here in Scotland. We also have the International Centre for Brewing and Distilling at Heriot-Watt University, a world-renowned centre for brewing and distillation excellence. Many of the leading distillers in Scottish gin, and the broader world of spirits, have perfected their craft there.
There is no Geographical Indicator (GI) for Scottish gin unlike whisky, so it doesn't have any legal definition or protection around how or where it's made. I think in part this is a good thing as it's allowed distillers to be creative and free from some restrictions on botanicals and production methods. However, it also means that technically anyone can make a gin anywhere in the world and stick Scotland on the label. At The Gin Cooperative, we define a Scottish Gin as one that's distilled, rectified or cold compounded in Scotland by a business registered in Scotland.
Which local botanicals stand out as uniquely Scottish?
There are a few that I see as being Scottish by association. Scots Pine is rich in flavour compounds that can sometimes be very similar in aroma and flavour to juniper with menthol notes, herbaceous green notes, earthy spices and citrus. Heather blossom is another botanical I see featured in several Scottish gins. Depending on the time of year these are foraged, they can add delicate floral notes or earthy notes. Sometimes they can almost trick your brain into thinking something is sweet.
There are several areas where juniper grows naturally and has done for hundreds of years and is carefully and sensibly foraged by some gin producers, whilst others have cultivated and developed hundreds of plants for future gin production.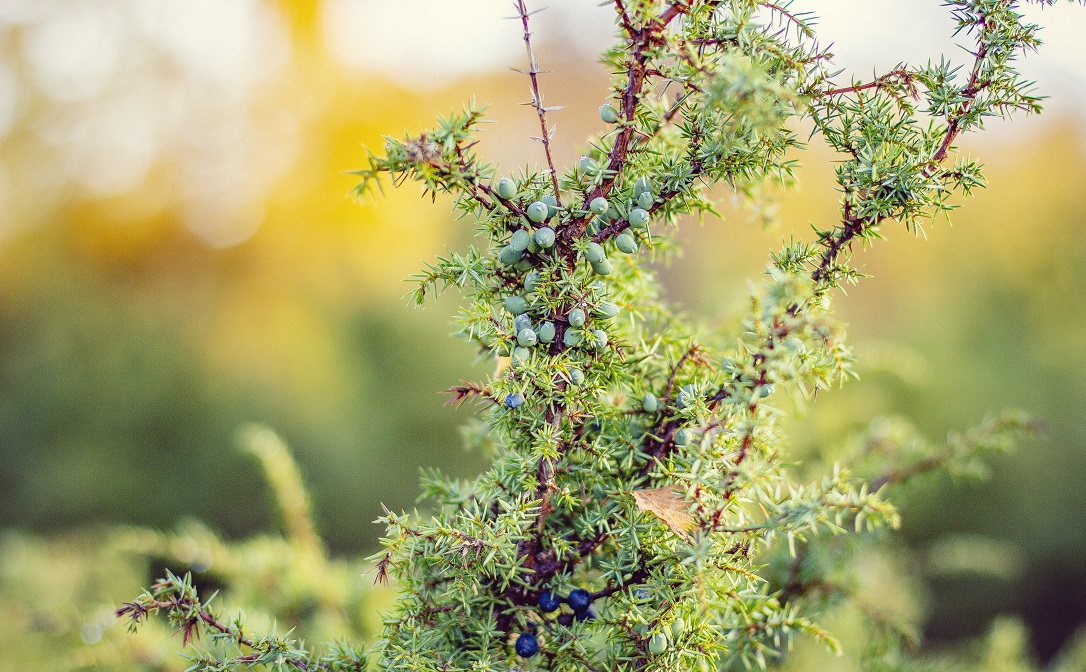 Native Scottish Juniper in the Scottish Highlands. (Pic: ©The Gin Cooperative)
How have your WSET qualifications helped you in your Gin Cooperative venture?
Having come into the world of Scottish gin from a non-drinks or hospitality background, I've pushed myself to learn as much as I can. I've learnt about production and distillation, botanicals, cocktails, business and routes to market, export, import and more. It was important to not only understand how to taste gin, with its various qualities and nuances, but also the challenges associated with making it, marketing it and selling it.
My WSET Level 1 Award in Spirits qualification was a big part of this learning process. Level 1 was a great starting point for getting to grips with the WSET processes for assessing spirits and helped me fill in a few of the blanks in my understanding of spirits in general. It was also an excellent introduction to other spirits and their production methods.
WSET Level 2 Award in Spirits went deeper into the production process, botanicals, ingredients, and provenance of a wider variety of spirits and types of alcohol. It was a brilliant course that helped me further my knowledge and introduced me to some spirits I'd heard of but knew very little about. For anyone looking to further their understanding of gin, spirits, cocktails and more, the WSET Level 2 in Spirits is perfect.
Martin uses his WSET qualifications to better understand Scottish gin. (Pic: ©The Gin Cooperative) 
The Gin Cooperative was established by Martin and Natalie Reid in 2017 as a platform for showcasing Scottish gin to consumers and trade, with a focus on creating and publishing original content that helps educate and inspire. Martin and Natalie are also behind International Scottish Gin Day©, a day established in 2018 for Scotland's gin makers and brand owners, on-trade, off-trade and consumers to celebrate Scottish gin.
Follow The Gin Cooperative on Instagram: the_gin_cooperative
Leading image: ©The Gin Cooperative