Asia Minor,

a

large

peninsula which forms most of

contemporary

Türkiye

(Turkey)

,

is considered to be

one of

the most ancient wine produc

ing

regions

in the world

.

But

its wines are

yet to be discovered

by drink

s

enthusiasts

globally

.

We enlisted the help of

Turkish

WSET

a

lum Turgut

Tokgöz

DipWSET

, t

o

help

you

explore the

burgeoning

wine scene in his country

today

.
Please consider donating to a local relief fund that is providing vital support for the people of Türkiye and Syria who have been affected by a series of devastating earthquakes in February 2023. 
With a total of 420,000 hectares planted, Türkiye has the 5th largest vineyard area in the world (OIV, 2021). But most of this vineyard land is used to produce fresh and dried grapes, rather than wine grapes. Despite its ancient winemaking tradition, only around 15% of the total vineyard area is dedicated to wine grapes. This places national wine production well below countries like Greece, Georgia and Romania. 
There are several historical reasons behind this statistic that are worth exploring:  
Under

Ottoman

rule (

1299-1922)

,

o

nly the non-

Muslim

population was

permitted

to produce and consume wine. 

 

Following the foundation of the new Turkish Republic in 1923, the

population exchange

between

Türkiye

and Greece left a gap in the country's

viticultural

capacity

and winemaking

expertise

.

 

From

1925, wine production and distribution

was

consolidated

under

the state monopoly

, leaving

little room for private investor involvement. 

 
While wine production grew over the next few decades, it was only later in the 20th century that a more sustained and significant focus was placed on raising the quality of Turkish wine and its reputation with the global consumer.  
The Turkish wine scene has been rapidly developing since the mid-90s. Thanks to increasing wine enthusiasm and a vibrant domestic investor base, wine production has more than doubled since the turn of the millennium, and consumption has nearly tripled.  
Türkiye's wine market holds plenty of promise for the future, but until now growth has been domestically oriented with exports remaining low. Today we are hopeful that an increased focus on native varieties and efficient marketing can enable Türkiye to capture the attention of curious wine lovers around the world who are in search of new tasting experiences.  
If you're reading this, that's probably you! So here is a helpful guide to Turkish wine climates, regions and grapes, so you can start discovering this diverse offering today. 
Geography

and climate

 
The country sits on the Mediterranean basin and climatic conditions are extremely diverse. This leads to a broad range of wine styles to choose from when starting to explore Turkish wine. 
The west and the south of the country present warm Mediterranean conditions while the Black Sea coast in the north has a moderate maritime climate. Much of the centre and east regions experience warm to hot continental climates.  
The mountainous character of the country means that vineyards can often be found at high altitudes. In fact, the country lies on average elevation of 1,140 metres above sea level, considerably higher than other wine producing Mediterranean countries. This elevation provides a moderating influence which cools the growing environment and extends the ripening period. This gives the grapes time to develop flavour complexity whilst retaining fresh acidity. 
While grapes are grown all around Türkiye, some regions are less suited to commercial viticulture. The central and eastern Black Sea coast experience excessive rainfall during the growing season, resulting in high disease pressure, while the eastern highlands, situated at 2,000-3,000 metres above sea level, are too high. 
Keen to learn more about the impact of geography on the way your wine tastes? The

WSET Level 2 Award in Wines

will give

you

a great understanding of this

important factor

.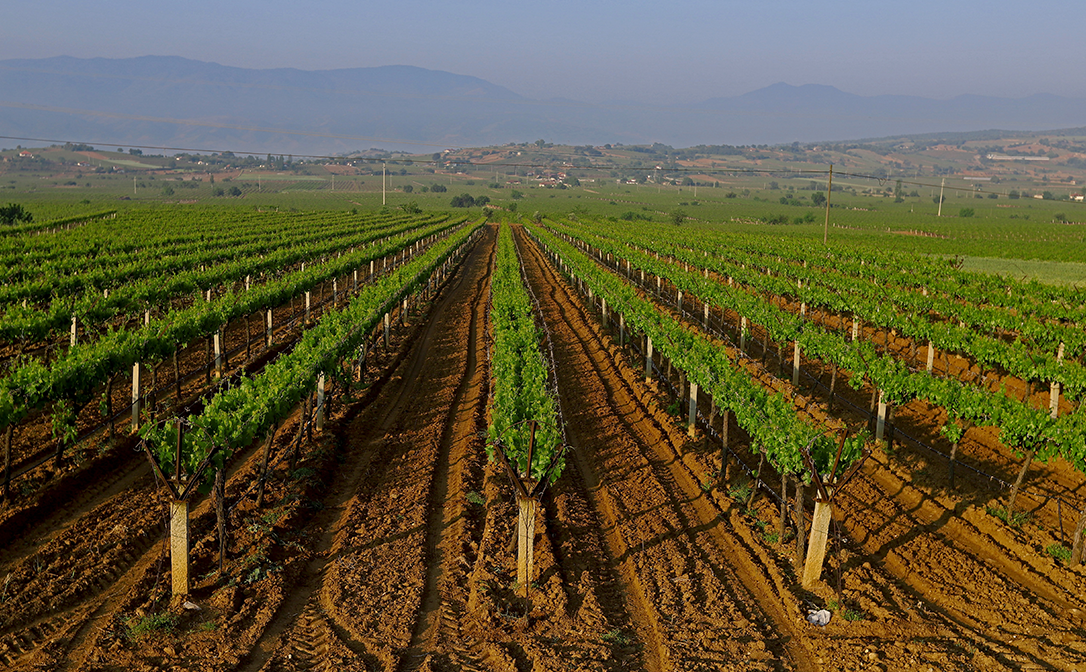 Manisa, the Aegean Inlands
Turkish

wine regions

 
Four areas collectively produce nearly 85% of wine grapes in the country (Turkstat, 2021). 
The Aegean is the country's most important wine producing region, producing around 30% of national wine production. It has several subzones worth exploring:  
Islands – Bozcaada &

Gökçeada

 

Coastal Aegean –

Urla

,

Selçuk

, Bodrum,

Datça

 

 

The

Aegean Inlands – Manisa,

Denizli

,

Uşak

 
The Southeast zone, home to the indigenous black grape varieties Öküzgözü and Boğazkere, comes a close second in importance. Look out for subzones: Elazığ and Diyarbakır.  
The next two most significant regions are Thrace (subzones: North Thrace; Coastal Thrace and Gallipoli Peninsula) and Central Anatolia (subzones: Kalecik and Cappadoccia).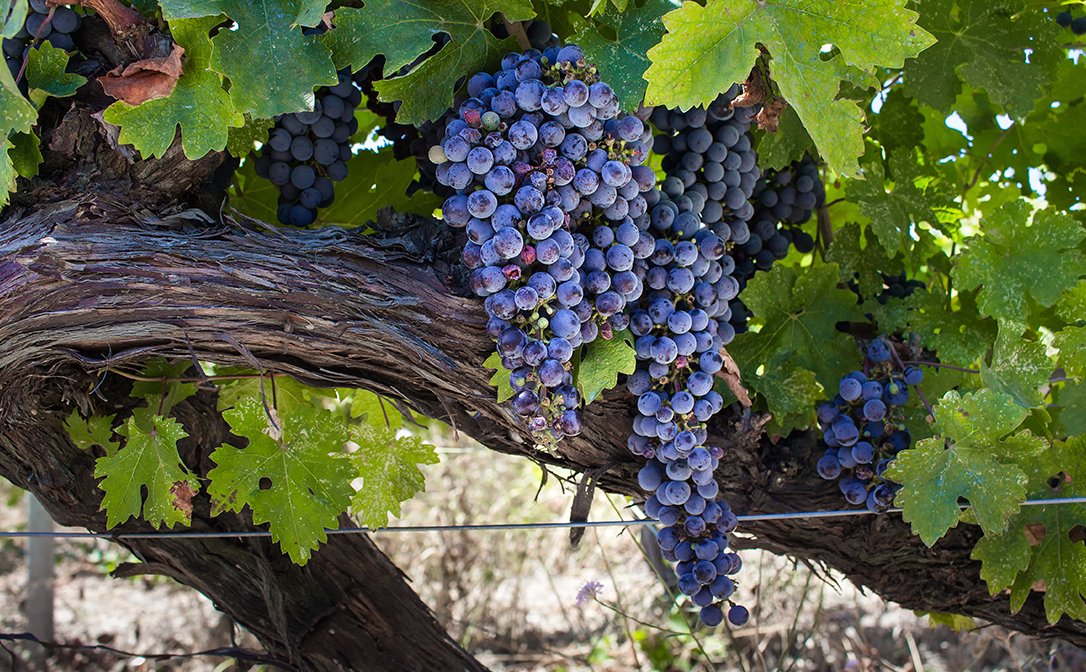 Grapes ripening in Urla, Coastal Aegean
Turkish

wine

grape varieties

 
The majority of wine grape plantings are black varieties (Anderson, 2020): 
Among the leading indigenous varieties are

Öküzgözü

,

Boğazkere

,

Çal

Karası

,

Kalecik

Karası

and

Papaskarası

 

I

nternational varieties

planted include

Syrah,

Alicante

Bou

s

chet

, Cabernet Sauvignon, Cinsault, Merlot and Gamay Noir

 
Grape spotlight: Öküzgözü [oe-cooz-goe-zoo], meaning 'eye of the bull' in Turkish, can be produced in different styles – from juicy medium-bodied wines with soft ripe tannins and aromas of violets, red and black prunes, to more complex oak-aged wines showing sweet spices alongside ripe fruits. 
As for white grape varieties: 
Sultaniye

(Sultana

or

Thompson Seedless) is the most planted among all grapes

,

but

very little

of it is used for wine production

 

The indigenous

Narince

grape

is

the

leading white variety

for wines

followed by

Emir

 

 

Th

e most widely planted non-native white varieties

are

Semillon, Chardonnay, Sauvignon Blanc

and

Bornova

Misketi

(Muscat Blanc à Petits Grains)

 

 
Grape spotlight: The Narince [na-rin-jay] grape, meaning 'delicately' in Turkish, is also produced in different styles. Some are unoaked, easy drinking, fruity wines showing stone fruits with medium acidity. More serious versions are produced in a fuller style from riper fruit that is able to take oak ageing well, often with a creamy character provided by extended contact with lees (dead yeast cells from the fermentation).  
There are many other indigenous varieties that are being revived and gaining more plantings in the hands of talented Turkish producers. Keep a look out for the black varieties Karasakız, Acıkara, Patkara, Foça Karası, and Barburi, and the white varieties Sıdalan and Yapıncak. 
We hope this post has given you some helpful pointers for exploring Turkish wines. Next time you're looking for a new wine region or grape to try, be sure to seek out one from Türkiye! 
This article was prepared by Turgut Tokgöz DipWSET. After a 30-year career in investment banking and NGO management, his life-long passion for wine led him to pursue a second career in the wine industry. He gained his WSET Level 4 Diploma in 2017 and is currently a student at the Institute of Masters of Wine.  He is a WSET and Sake Sommelier Association certified wine, spirits and sake educator and teaches in his Oenotrian School located in Istanbul. He currently serves as the founding President of the Turkish Society of Wine Experts and Educators and also exports Argentinian and Chilean wines to Turkey and Greece. 
Follow Turgot on Instagram! @turgotokgoz @oenotrian_school 

References
Anderson, K. and

Nelgen

, S. 2020.

Which Wine Varieties Are Grown Where? A Global Empirical Picture

. A Revised Edition. University of Adelaide Press.