When it comes to food and wine pairing, our minds often go to European food and dishes: Foie gras, a classic salade niçoise, or a tomato-based pasta dish. But Nikita Hemani, a WSET Level 2 Award in Wines graduate, is trying to get wine drinkers to expand their horizons.
With a population larger than the whole of Europe combined, it should be no surprise that Indian cuisine contains a hugely diverse set of flavours, textures and ingredients. On top of many of the same base ingredients found across Europe – tomatoes, potatoes, leafy green vegetables, fresh fish, chicken and red meat – regions across India also use an array of aromatic spices when cooking. From the fragrant curries of the north to the fiery delicacies of the south, one constant across the country is that Indian food can offer a complex (and delicious!) set of flavours in every dish. This complexity can create a challenge when searching for a wine to pair it with. While the idea of pairing wines with Indian dishes might seem unconventional to some, it's a culinary journey worth taking.  
Before we dive into the food and wine pairings, let's shatter a myth about Indian food: that Indian cuisine is dominated by spicy heat. Though chilli heat can be used Indian recipes, there are an array of dishes that contain no fiery heat at all. Beneath this stereotype does lie a masterful use of aromatic spices, from cumin to cardamom and coriander to  cinnamon. These spices offer a spectrum of flavours that can be elevated further by well-chosen wines. Because of this misconception about Indian food, off-dry Rieslings has been the classic choice for pairing due to its perceived sweetness and lower levels of alcohol. However, there are a myriad of other wines waiting to be discovered.
Planning your Indian food pairing
When pairing Indian dishes with wine, these wine characteristics can be used as guiding principles.
Acidity: The wine's acidity can cleanse the palate and cut through richness.
Sweetness: A touch of sweetness in wine counters spiciness and enhances aromas.
Alcohol level: It is important to be mindful of the alcohol level if the dish contains chili. A higher alcohol content can amplify the perception of heat.
Which wines should I pair with Indian food?
Sparkling Wine - Prosecco 'Dry' DOCG:
The effervescence of a Prosecco DOCG offers a refreshing contrast to Indian cuisine. It can cleanse the palate and cut through the richness of fried snacks, or create a versatile pairing with the diverse flavours and textures of Indian chaats.
Pairs well with: Samosas, pakoras, bhel puri, aloo tikis, papdi chaat.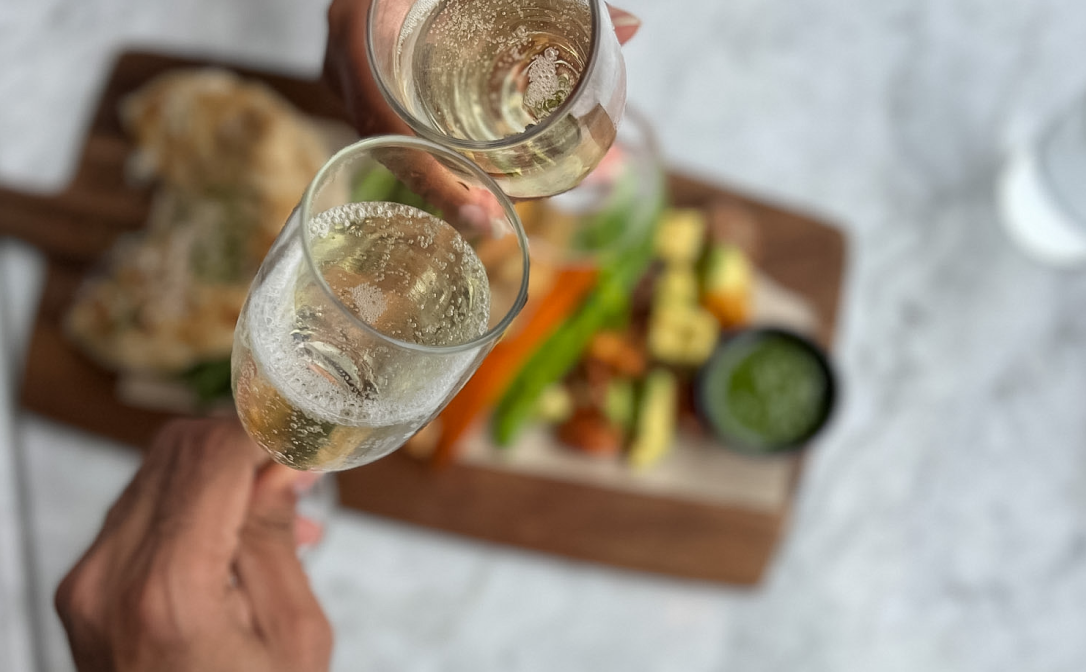 (Photo: ©Nikita Hemani)
White Wine - Marlborough Sauvignon Blanc:
Known for its high acidity and tropical fruit flavours, characteristics, Sauvignon Blanc from Marlborough in New Zealand complements vibrant herb-based dishes and spinach-laden Indian dishes. The wine's bright acidity can not only cut through rich of sauces, enhancing their flavours, but also creates a refreshing interplay with the intricate spice blends, elevating the entire dining experience.
Pairs well with: Saag paneer, palak chaat.
Red Wine - Spanish Garnacha
Garnacha's red fruit aromas often accompanied by subtle peppery flavours, can pair very well with tomato-based curries. The wine's lower level of tannins and fruity notes create a harmonious balance that enhances the flavours of the dish.
Pairs well with: Chicken tikka masala, Malai kofta, Aloo gobi, vegetable korma.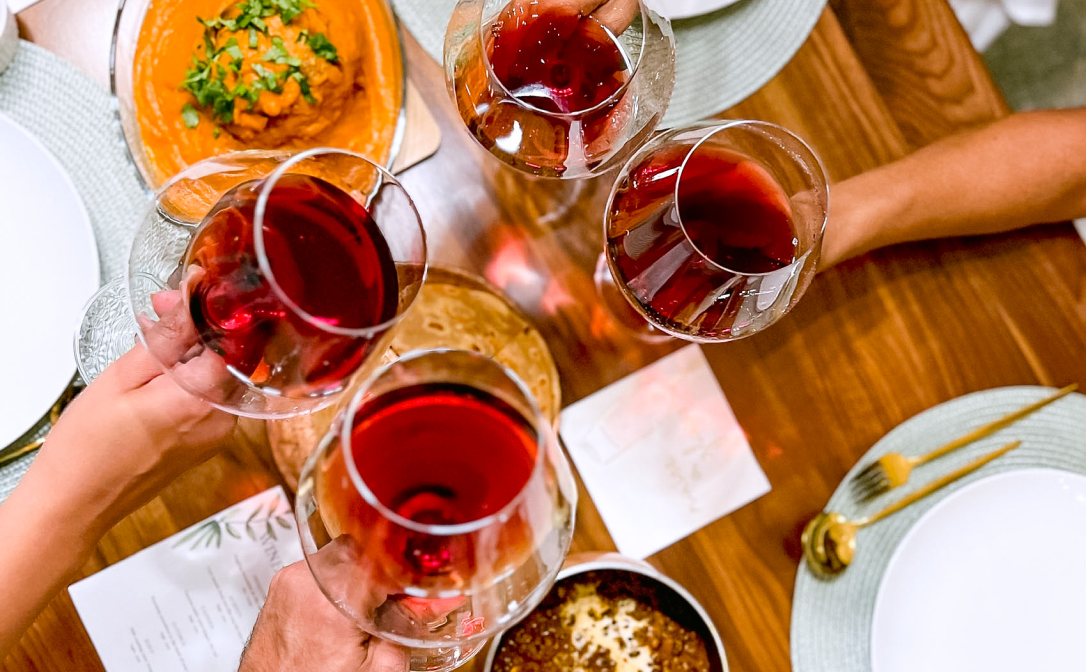 (Photo: ©Nikita Hemani)
Pairing Indian foods with wine is a delightful experience that bends the rules of tradition. By exploring the aromatic spices that define Indian cuisine and considering various wine characteristics, one can create a beautifully balanced dining experience. So, the next time you're enjoying some aloo gobi or a delectable samosa, think about which wine you would like to pair it with.
This article has been prepared by Nikita Hemani, who is deeply passionate about both Indian cuisine and the world of wine. To combine these two loves, she created @naanstopwine, an Instagram account dedicated to exploring the possibilities of pairing diverse Indian flavours with various wines.
WSET's Level 2 Award in Wines is a beginner- to intermediate-level qualification exploring wines. It is suitable for industry professionals as well as wine enthusiasts. Find out more about this qualification today.