You may or may not agree, but learning is fun. Especially when your subject matter is the world of wine.
Whether your motivation to study is professional, to help you advance in your career, or personal, you want to gain more confidence and knowledge in your everyday life, the Level 1 Award in Wines is the place to start.
Ed Wicks DipWSET, Educator at WSET School London, gives us an exclusive angle on one of his favourite parts of the job – teaching the Level 1 Award in Wines.
It is extremely rewarding to meet people at the start of their drinks education journey, and it is even more rewarding to see them back for the Level 2 or 3 Awards in Wines.
Still undecided? Sign up to join WSET's free 3 Minute Wine School email course and begin your journey of discovery. Tap here to begin.
Flexible study…
…in the classroom
While it might feel like a challenge to find the time to take a class, our course providers offer lots of different ways of studying that can fit your schedule. Whether you'd prefer to take the course on a single day, or for it to spread over a couple of weekends or a few evenings...
…online
Many of our course providers offer online learning options. You'll have access to expert educators and resources, but you can study from the comfort of your own home, with even more flexibility to suit your busy schedule and at a pace that suits you.
Whatever your preferred mode of study, you're bound to find a course to suit you.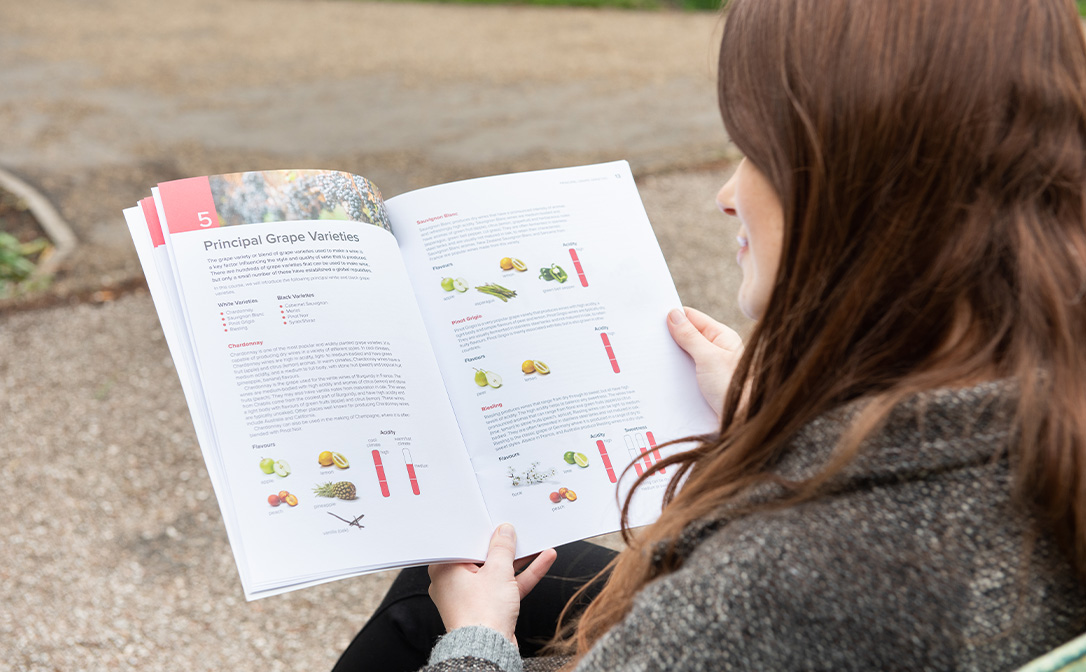 What to expect...
If you are interested in learning a little more about the wines you enjoy, then this course is for you, we start from basics and build our way up. During the course, you will learn where grapes are grown and how climate and different options for grape growing can affect the style of wines.
You'll cover the common factors in the production and maturation of red, white and rosé wines and how these factors can impact the flavours in the glass.
The content is pitched perfectly for an introductory course giving you the fundamental knowledge needed without getting too technical (come back later for our Level 3 Award in Wines to get nerdy with us)!
Using this knowledge, we go over the principal grape varieties of the world, what common flavours we can see and some key examples of famous wine regions and what to expect from them.
Introduction to tasting wines
It's not all theory and talking. You should also have the opportunity to try many delicious samples from these key varieties and regions. While tasting, we focus on building your confidence in describing the characteristics of a wine, teaching you a clear and consistent way to assess them.
It will also give you more self-assurance when choosing wines, either to enjoy at home or when dining out, as we focus on food and wine pairing – with some great exercises. You'll see just how foods tend to react paired with different types of wine.
Completing the course
On achieving the Level 1 Award in Wines, you will not only have a certificate to proudly display but be filled full of great facts to impress your friends with - but be aware that on completion of your WSET course, they will be asking you what they should buy too, I know mine did...

Upon completion of any WSET qualification, students will recieve a pin and certificate
Building a career in the drinks industry
My own experience with WSET highlights just how useful this course can be for those working in the drinks industry.
Just under 15 years ago, I was working in various pubs and restaurants and really did not know much about what I was serving to my customers, other than what I could read on the backs of the bottles! I decided that I was going to enrol on my first WSET course and chose one that ran over three weeks on evenings that suited me.
Studying with WSET was primarily to try and progress my career. I found that with my WSET Level 1 Award in Wines, I was able to get interviews at better establishments and stand out from other applicants.
The course really ignited a new interest in me that I had previously given little thought to. In fact, the quality of the educators I met along the way made me want to follow in their footsteps and finally led me to the job I have today!
This award can do the same for you, sparking the same passion and desire for more knowledge that it did in me. It's the perfect first step on the ladder to move up and study our higher certificates as well, you do not need to study the Level 1 to start the Level 2 Award in Wines, but it will give a great foundation for those that want to progress.
Whether you want to make headway in the trade, change your career, or just learn more about a subject you are interested in, the Level 1 Award in Wines is a great place to start. Our course providers will deliver it in a relaxed fun environment in a format that suits your lifestyle.
I look forward to seeing you in the classroom or online soon and sharing some great wines with you!
This article was written by Ed Wicks, WSET Educator, WSET School London
---
Related content: