Georgian wine culture dates back

,

uninterrupted

,

approximately 8,000 years

.

T

oday,

Georgia's

wine industry

offers

exceptional

wines

using

both modern

European

and ancient winemaking techniques.

Lasha

Tsatava

DipWSET

, the first ever Georgian

WSET

Diploma

Alum,

gives us an introduction to this

unique

wine landscape

.

 
If you're interested in philosophy, your studies will take you to Greece where you'll come across philosophers like Socrates, Aristotle and Plato. If you're interested in wine culture, sooner or later your journey will lead you to Georgia, located at the crossroads of Europe and Asia. It is a land with an ancient wine history, a distinctive range of styles, and a plethora of indigenous grape varieties to discover.  
Let's dive further into some of the factors which make Georgia different from any other wine region in the world. 
8,000 years of winemaking history

(at least!) 

 
Scientific evidence  has been found in Georgia that dates winemaking practices back to between 6,000–5,800 BCE. Georgian character and perseverance have been forged by its unique location at the intersection of Europe and Asia, and between the Christian and Muslim worlds.  
Through its turbulent history, wine has remained a constant. Century after century, wine culture has been reinforced through Georgian customs and traditions. When you taste Georgian wine, you are connecting with the history of winemaking and a culture that has been preserved, protected and safeguarded for at least eight millennia.  
A distinctive range of styles
The largest volume of Georgian wine is produced and aged in stainless-steel or oak vessels, similar to most winemaking countries. However, Georgia also traditionally produces both amber and red wines in a clay vessel known as qvevri. Less than 10% of the country's wine production is made in this way, but the style has had a notable influence on winemaking around the world.
Qvevri is a handcrafted clay vessel placed in the ground, used for both wine fermentation and maturation. In 2013, UNESCO named this ancient Georgian winemaking method an Intangible Cultural Heritage. Modern qvevri sizes typically range from 50 litres to 3,500 litres in volume. Generally, smaller qvevris are used for alcoholic fermentation and larger ones for storing wine.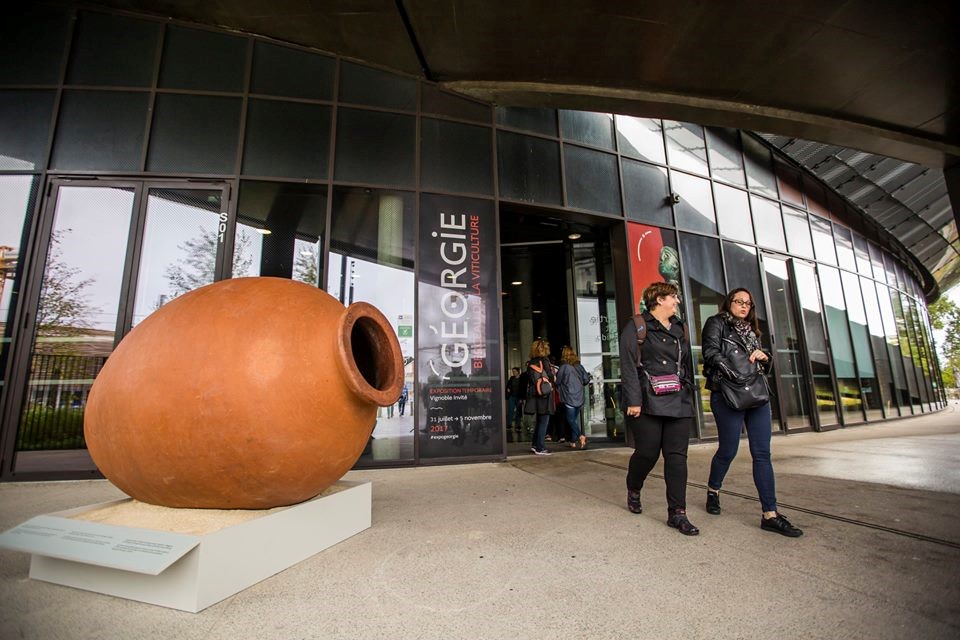 A qvevri at the entrance of the Cité du Vin museum in Bordeaux for its 'Georgia, Cradle of Viticulture' exhibition in 2017. With thanks to the Georgian Wine Association. 
Georgia's amber wine category

 
In Georgia, 'Amber Wine' is a category made from white grape varieties that are fermented in qvevri with their skins, seeds and sometimes also with stems. This is the fastest growing category in the Georgian wine industry, and the one Georgians are most proud of. It's what makes Georgia unique. 
Typically, the juice is left in contact with the skin during fermentation and then the wine remains on the skins for a further one to six months. The duration and percentage of skin contact often depends on the regional style, the winemaker's preference and the quality of the vintage. There are different styles of qvevri wines to try, and I advise exploring this category in the following order. 
 

Introductory amber:

These wines are a great first step, especially if you are new to tasting skin contact amber wines.

They

tend to be medium bodied, with

more

fresh

than

dried fruit notes and

medium

tannins.

 

 

Full

-on

amber:

Once

you're

already familiar with skin contact wines, try expanding your palate with full

-on

amber styles. These wines tend to be fuller in body, with more dried fruit notes than fresh, and with

notable

tannins.

 

Amber combo:

These are wines that I would recommend as a

progressive

style to try if you are already familiar with amber wines. They tend to be fermented and matured in

qvevri

,

similar to

full

-on

amber wines, however they undergo

additional

ageing in oak vessels to soften the tannins.

They

tend to be full bodied, with dried fruit character, well-rounded

tannins

and

oak

flavours

.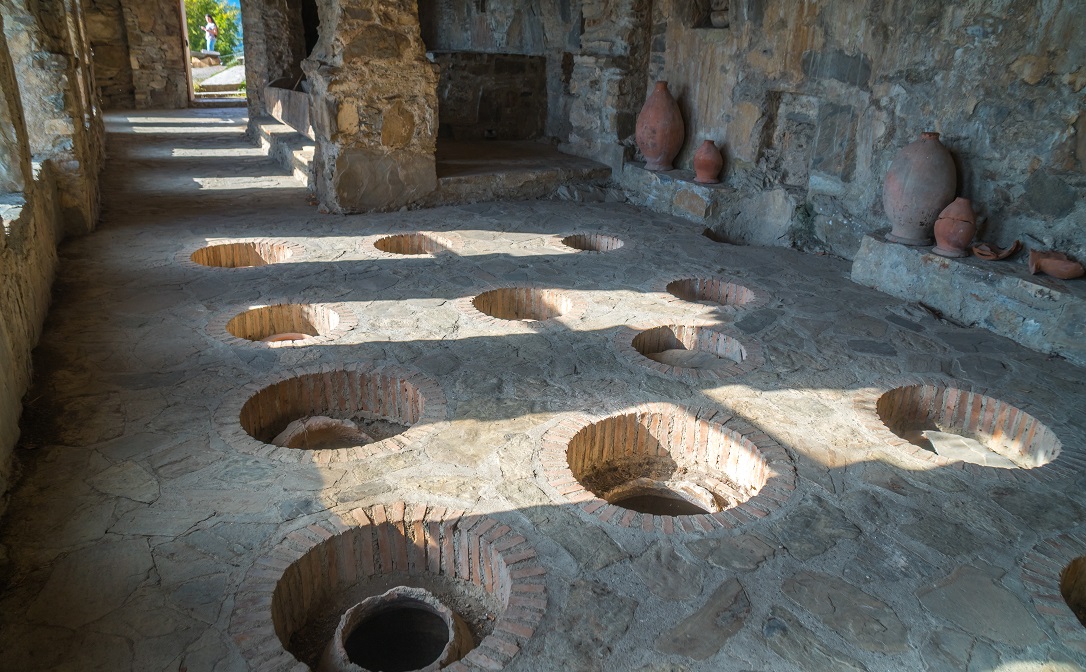 Qvevri underground in the marani (cellar) at the Nekresi Monastery in Kakheti, Eastern Georgia.
Over 500

indigenous grape varieties

 
With a wealth of indigenous grape varieties to discover, you'll never get bored of exploring Georgia's wine offering. Here's a breakdown to help you get started: 
Around 45

indigenous

varieties

are currently used in commercial viticulture

 

Around

20-25 are available in export markets

 

Roughly

75%

are white grapes and 25% black grapes

 
White grapes

 
Rkatsiteli [rQá-tsi-telly] is Georgia's most planted, and most ancient, white grape. It can also be found in several U.S. States as well as countries in close proximity to Georgia including Ukraine and Moldova. "Rka" means stem and "Tsiteli" translates to red, due to Rkatsiteli's ability to ripen regularly as its stems turn brownish. It's adaptable to various soils and climates and the wines it produces range from modern to amber, from dry to sweet, and even sparkling and fortified wines.  
When produced in the modern style, Rkatsiteli offers citrus, apple, quince and subtle floral notes. In an amber style, depending on the length of skin contact, it offers notes of marmalade, honey, caramel, white fig, stone fruits and sweet spices.  
There are many other white grapes to explore too, many available in both modern European and amber styles. Some white varieties to look out for from Georgia's four major growing regions include: 
Imereti

region

:

Tsolikouri

,

Tsitska

and

Krakhuna

 

Kartli

region

:

Chinuri

(aka

Chinebuli

)

and

Goruli

Mtsvane

 

Racha

region

:

Tsulukidze

(aka

Rachul

i

)

Tetra

and 

Rachuli

Mtsvane

 

Kakheti

region

:

Mtsvane

Kakhuri

,

Kisi

and

Khikhvi

 
B

lack grapes

 



Saperavi  [sá-phe-ra-vi] is one of Georgia's best known black grapes. Its name translates as "to dye" or "to colour with" – it's a tenturier variety, meaning it has pink-coloured flesh and juice.  
Both winter hardy and drought resistant, Saperavi is a real survivor. It adapts well to different growing environments and has made a new home in both Australia and New York's cool Finger Lakes region. It is becoming an interesting option for producers looking to adapt to climate change.  
Its aromas range from fresh red berries in cooler regions to black fruits and spice in warmer regions. The grape produces a range of styles from dry to fully sweet as well as fortified and sparkling wines. It's also a great blending variety, providing elevated levels of acidity, sugar accumulation, tannins, and a complex aroma spectrum. Its structure allows its wines to age well, both in oak and qvevri.  
Other black grape varieties to look out for in both modern and qvevri styles include: 
Imereti

region

:

Otskhanuri

Sapere

and

Dzelshavi

 

Kartli

region:

Tavkveri

,

Shavkapito

and

Asuretuli

Shavi

 

Racha

region:

Aleksandrouli

and

Mujuretuli

 

Kakheti

region:

Budeshuri

Saperavi

 
 

A

dynamic modern wine industry

 
The current wine industry was reborn after the collapse of Soviet Union. It is in constant motion and is currently redefining and rediscovering itself. 
In 2021, there were 29 registered Protected Designations of Origin (PDOs) in Georgia. The most important wine regions in terms of hectares planted are:  
Kakheti

in

the east 

 

Imereti

in

the west 

 

Kartli

in

the centre 

 

Racha

in

the

north-west

 
Other notable wine growing regions include Lechkhumi (north-western Georgia), Meskheti (south-western Georgia), Adjara, Guria, Samegrelo and Abkhazia (western, coastal Georgia). 
Today the country has nearly 2,000 registered wineries, of which over 400 are exporting their wines. On one side, around a dozen large producers dominate wine imports to post-soviet era and Chinese markets. On the other, there are small-to-medium-sized producers who focus on quality, studying their vineyards, soils and terroirs to continually improve their offering.  
There are a growing number of Georgians gaining experience abroad and pursuing advanced education in hospitality, vineyard management and winemaking with the aim of returning and pushing the quality of Georgian wine and hospitality to the next level.  
When you explore Georgian wines, you're making a direct impact on the future of the industry by increasing awareness and inspiring a new generation of Georgians to re-introduce their wines and their ancient winemaking culture to the world.  
"GAUMARJOS!" (The typical Georgian word for "cheers" which translates to "may you be victorious!") 
About

Lasha

Tsatava

DipWSET

 
Lasha is originally from Abkhazia, Georgia. He has spent most of his life (since 1998) in the U.S. but has always had a strong fascination with Georgian wine, gastronomy and culture. In 2021, Lasha received the honorary status of Georgian Gastronomy Ambassador, and became the first Georgian to achieve the WSET Level 4 Diploma.  
In 2022, Lasha co-founded a non-profit organisation, Saperica, to promote Saperavi and other Georgian grape varieties, Georgian gastronomy and culture in the Finger Lakes, New York and around the U.S. In the same year, Lasha also became a consulting wine director for Chama Mama restaurants in New York City.